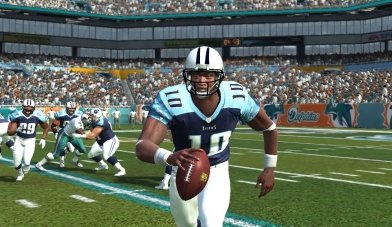 Vince Young strained his right quad muscle in the game on Sunday against Tampa Bay and is currently listed as day-to-day. It is possible he may not even miss this weekend's game against the Texans. This news would be considered pretty minor in the grand scheme of things but that hasn't been the case as numerous outlets have jumped on the opportunity to proclaim that the Madden cover jinx has struck again! Apparently there was the need to reach for a story and this one was too convenient.
From ESPN and G4 to sites like Kotaku and Joystiq the Young injury has spurned discussion and articles on how the Madden curse has finally gotten to him. At least he was able to resist it for six weeks but inevitably something was going to come up that the media could attach the cover as reasoning for.
Despite it being deemed only as a day-to-day injury, which is a common state that many players are in throughout the year, this is being attributed to the cover curse. Generally the curse has been about major injuries or season long poor performance. However now it seems that absolutely anything, no matter how minor, is going to be credited to the curse for the player who graces the cover. Which means it will never go away, no matter how ridiculous it is.
If the Madden curse is to be believed, there is a less publicized one that afflicts the athlete that ends up on the College Hoops 2K cover. Greg Oden was lost for the year before even playing a preseason game. Not much mention of that except for this article at ESPN that lists the history of its cover athletes. At least in that case it was a legitimately significant injury, but here we get stories about how apparently Young wouldn't have ever strained his quad had he not been on the Madden cover.
Had LaDainian Tomlinson accepted the cover offer from EA his poor performance up until last weekend would've been blamed on it. Tom Brady would be experiencing the curse because he is always listed as "probable" on the team's injury report. Imagine if Drew Brees were on the cover and the his, combined with the Saints struggles, were attached to the Madden curse. The list could go on and on.
There are approximately 200 players on injured reserve already, and hundreds more experiencing injuries that won't cost them the entire season. What curses caused them to have to go through that? Overall for the league injuries are up over last year. Did I miss where the entire NFL was on the cover of the game?
Yet here we get Vince Young straining a muscle and it is national news. It's time to move on and come up with something else.