I have a major problem with EA Sports GameShow. It is way too addictive. I didn't expect to be, but I got hooked on it within minutes of firing it up. I had planned to feel it out and run through a couple of the sessions, but ended up staying on for almost four hours right through the end of the live broadcast portion of the day.
I used to enjoy trivia type games. I loved the different versions of You Don't Know Jack when I was younger, but I didn't anticipate having that same interest now. I had followed along with some of the info on GameShow but almost felt indifferent towards it. But now having tried it out, it has far exceeded my expectations in every area and I really didn't want to stop playing. And that isn't a feeling that I've had much of over the past couple years.
As I mentioned in the previous posting, it took about 6 minutes to download the program and was quick and easy to install. After a minor hiccup with the EA ID I started it up and right away was amused that they have some funny statements that display as its loading (such as Chuck Norris "facts").
Once in you're asked for a state you want to represent. It doesn't have to be your home state, but I'd assume most would choose theirs as I did. After that, one of your available rooms will be for that state. You can also go in and edit your options which includes selecting your favorite teams for different sports. Once I entered in mine new rooms appeared in my list for each. So for example I could've gone into a room for Washington or Seattle Seahawks. I believe you can set up private rooms as well. No matter what room you are in you will represent the state/region you originally signed in with.

The first thing I did after that was head into the shop area and select my avatar. You start out with a limited number of options and I'm guessing more will be added in later or are to be unlocked in some way or at some point.
After that I jumped in to the next session. There weren't any others from Washington so I was in a room alone all night. You compete to try to earn the most points. Outscore your room, region and possibly come out on top of the entire country. You earn points in each session which gets you tokens. The tokens are what you can spend on your avatar, power-ups, and raffle entries.
When a new session starts up you get the opportunity to wager tokens. You decide on a percentage that you'll answer correctly, then how much you want to wager, and then you get odds based on that. The lower your percent (50 is the lowest) the lower the odds. I believe you get 1/1 for that, but if you up it to something like 65% you'll get more in the area of 2/1 or 2.5/1 but you don't have to wager anything if you don't want to.
The faster you answer the questions the more points you get for a correct answer. It starts at 1000 and drops based on how long it takes to lock your answer in. If I remember right there are five seconds to choose once the answers appear. I was usually getting my choices in very quickly and collecting 930-970 if I knew what was correct before the four possibilities showed up. You can either click with your mouse or use 1-4 on your keyboard.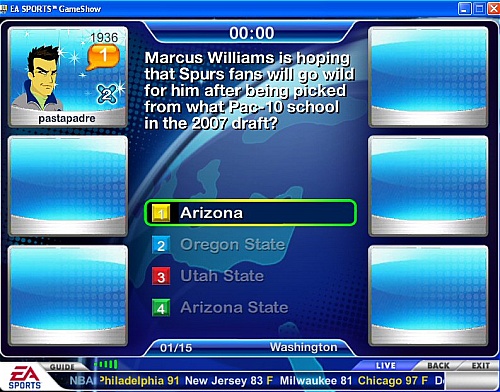 I thought the questions were really good. I was worried going in that they might be either too easy or too hard, but there was a really good balance. Some were easy and some I had no clue on but they weren't impossible, I just didn't know the answer. Most of them fell in the middle and people who know their stuff would do well. There are 15 questions in the normal sessions and 30 in the lightning rounds. Each session begins on the quarter hour and lasts about 11-13 minutes each time through. There are ads after every 5 (normal) and 10 (lightning) but they are quick. During the live session they were all for EA Sports games but sooner or later there will be different ones in there. I thought they fit in quite well and didn't bother me at all.
Some of the categories that I took part in were "coaching meltowns", "ACC football", "Cy Young winners", "longest marks", "college mascots", "# 2s", "Spotlight on the Spurs", and "Nascar Chase". It was a good mix of topics and I decided to sit out of the Nascar one.
I just barely started to get into using the power-ups. You purchase them in the store using tokens you've earned. I only looked through some of them but bought a handful to use. Of what I browsed, there are some that are straight forward ones such as 2x, 3x, 4x…which you would activate when you're sure of your answer and get your points multiplied by the number. I also grabbed one that is a 10x? which you use when you're unsure of your answer. It guesses for you and if it guesses right you get 10x the score. That one was more costly and it only has a 25% rate of success so its a gamble. Even more so when you consider you only get to use four power-ups in each session. So you could go have four 4x ones which you can be confident with as sure things, or you could gamble with a different type that could help strategically and pay off more. Another one had a picture of a chicken, and with that you get more points based on how close to the end of the clock you lock in your pick. Again a bit of a gamble if you wait too long and end up not getting your choice selected before the clock hits zero (and they're more stressful too especially during lightning rounds) but that one seems to universally be viewed as the best right now.
I have to say the best part of it all was the live show broadcasting. In the earlier posting I put up the schedule for it and would suggest everyone start out during one of those live periods. The two guys who were on came across as polished radio hosts. They were entertaining to listen to and kept the pace going really well. They also interjected with related information after some of the questions. Remembering it is live, there were some technical difficulties which caused two sessions during the evening to not run. So they were stuck on the air waiting out the 15 minutes until the next one began. They said they were not prepared for it but I thought they did well given the situation and I kept listening during that time as they talked about whatever was on their minds. I also thought it was neat that since it was live, they were not only adding comments about games that were on at the time (the Boston College vs Virginia Tech game and the World Series) but they were adding in a few questions related to what had happened. One session had 16 questions since they added an extra. It asked what quarterback led B.C. to the comeback victory earlier in the evening (Matt Ryan).
After each session it displays the high scorers for each region and overall, and they actually would say the names and the scores of those people. That was a pretty neat feeling to win the region and have them mention my name, even noting that it was the first time they had seen me come up as a winner. I ended up winning the West three times.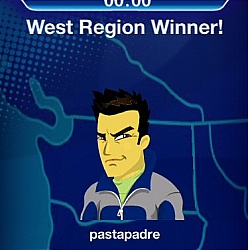 You can go in and check your lifetime stats as well as the leaderboard. I am currently ranked 8th for highest average score. I have answered 71% of the questions correctly (of the bunch I browsed on the leaderboard most fell into a range of 55%-79%). My top category is college football. I have more confidence in my knowledge of the NBA, MLB, and NFL so I expect that to change soon.
One question I've seen is regarding prizes. I believe this is all done through the raffles they run which you can spend your tokens on entering. I didn't happen to catch how much each ticket was, but I did look and see that right now they have up a copy of Madden 08 on the 360 as a prize which runs for the next two days or so.
I'll be spending a lot more time with GameShow over the coming days and will write even more on it. I'll be on during the live sessions on Friday and Saturday if anyone would like to join in.
To sum it up, my early feeling on GameShow is that it is insanely awesome. Part of that could be due to how new everything is, but the formula they've come up with will always keep it fresh and I'm really excited about it.