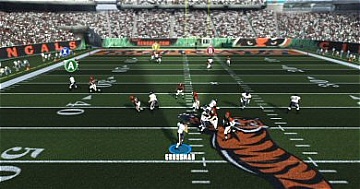 There are a couple of things going on in the community that are worth mention. Before I get caught up in the NFL games and my addiction to GameShow I wanted to post a few items that are of interest.
(1) EA is trying to get a feel of how many people use the vision cone in Madden. They are considering removing it from the game completely for 09 in order to free up the right analog stick for another use.
I appreciated the attempt to appease the hardcore crowd but it was a flawed idea that ultimately made the game less fun. It made little sense overall, as you already have to scan the field with your own eyes yet the feature essentially forced you to do it twice. That led to sacks becoming even more frequent than usual. It essentially became only an extra button press, far from being something that required more skill to execute successfully. Add on to that how it did little to separate the best QBs from the mediocre ones, especially in the case of people who liked to use the cone to look off receivers and get defenders to cheat towards them. While Peyton Manning's entire field being lit up was supposed to be an advantage, it took away the opportunity to look off receivers, but made it possible for someone like Rex Grossman to dominate with the quick extra button press.
EA immediately recognized that the feature was not going to be widely accepted, which is why it wasn't even in the 360 version of Madden 06 which came out only a couple months after the PS2/Xbox versions that introduced it. It has been an afterthought ever since. To keep it in simply to keep it in is silly. It should just be taken out completely to allow for addition of more useful feature.
Go here to vote on whether or not you use the vision cone. Currently "no" is winning by a 2-1 margin. In actuality the true % of gamers who use the cone in its current state is probably well under 10%. However the poll is going to be skewed because of the heavier presence of hardcore players in the online communities that would spend the time to go and vote. That group has been slightly more forgiving towards it and attempted to justify the use of the feature even though it made little sense and frustrated the majority of Madden players out there.
(2) 5WG is running a scavenger hunt contest to win an NBA Live 08 long sleeve shirt. Trust me these work great during winter to wear under other shirts. Click on over, spend a couple minutes on that quality site, and take your shot at winning the free shirt.
(3) I've been so caught up in GameShow over the past couple days that I've done little else. I haven't really played any 360 and I've lost out on sleep due to it. I'll be on more this evening and in the coming days so meet up with me in the Washington room if you decide to get on as well! If you continue on I've written up the schedule for the day starting with the 6:30pm ET session. If I decide to create a private room I'll leave the information there as well.
(ET)
630: Spotlight LA Lakers
645: (Lightning) Campus Walk
700: Our Favorite Day Oct. 28th
715: College Basketball North Carolina Tarheels
730: World Series Almost Over
745: Full Circle David Ortiz
800: (Lightning) Pac 10 to Pro Ballers
815: On the Bye Week 8
830: Awful Pro Football Rookie Seasons
900: Spotlight Detroit Pistons
915: (Lightning) Match Basketball Forward to His Team
930: Called Shots
945: Full Circle Jeff Gordon
1015: Top 15 Old Guys
1030: Spotlight Minnesota Timberwolves
1045: (Lightning) Hockey Cities
1100: Our Favorite Day Oct. 28th
1115: Bald is Beautiful