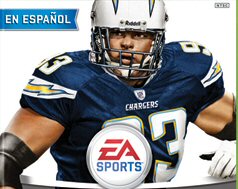 As I've written about previously I'm not a believer in the Madden curse. It is often reached for when the media wants an easy article to write. They'll wait on a natural event to occur and then jump on it, as if it was clever that they made the connection. However in this case the coincidence warrants mention.
Chargers DE Luis Castillo, who was recently pegged for the cover of Madden 08 En Espanol releasing in December, left the game against the Vikings on Sunday after injuring his knee and ankle. He is expected to miss a significant amount of time.
After EA announced he was to be on the cover people were quick to make the comment that he was setting himself up to be the next victim of the curse. While being on the cover didn't cause the injury it does almost seem fitting.
The decision was made to choose Castillo to represent the game even though he is an admitted steroid user. His teammate Shawne Merriman had been "elected" for the cover of NFL Tour only days before that announcement. That made it two steroid users on covers over the course of a week. Those developments were certainly curious and even somewhat controversial.