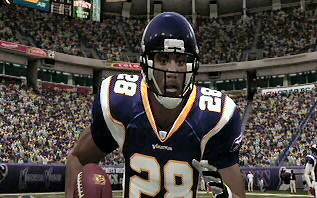 Last year prior to the Madden 08 cover announcement I supported the idea of putting selecting Devin Hester. There was no doubt he was one of the most valuable players in the league and arguably the most exciting. The impact he had for his team was unmatched although in a non-traditional way through special teams.
This year it's another rookie that looks like he could be the most appealing option for the Madden cover. Adrian Peterson has quickly established himself as the best RB in the league, even breaking the single game rushing record this past weekend with 296 yards. Not only does he lead the league in rushing, he is over 300 yards ahead of Willie Parker who is second. Oh, and he does all of this while the Vikings have no passing game and the opposition keys in on trying to stop the run.
Something that has been sorely lacking from Madden the last couple years is the level of overall excitement. There is no "game day" feel, everything just comes across as bland. Choosing a cover player that could get across improvements to that aspect of the game and fit in with the yearly hype behind Madden would be ideal. Peterson would be a great representative, better than Vince Young was. Young had success as the Titans overachieved, however it was more due their defense than him performing at a high level. That has been the case again this season. I'm not sure there is anyone that even makes sense other than Peterson right now.
When you look at possibilities for 09, guys like Tom Brady, Peyton Manning, and Randy Moss are basically invalidated due to previous covers they have been on. LaDainian Tomlinson has already turned down the Madden cover so he won't be given another opportunity. Choosing Young for 08 went away from how EA had previously put a player that represented the game's theme for the year. So it is hard to know whether that will become a trend or if they'll go back to it. Will they look for a defensive player or just the most marketable? There are a lot of variables to consider.
We've only reached the halfway point of the season so things may look completely different by the time the year ends. But as of right now who do you see as the top candidates for the 09 cover?