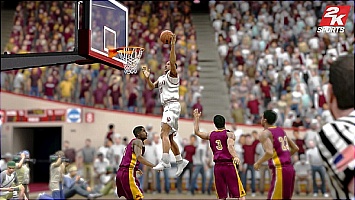 Have something that you have posted onto 2K Share for College Hoops 2K8? Leave the info in the comments section or shoot me an email via the contact form and I will add it to the list below. Rosters, Legacy, crowd chants, sliders, playbooks, ect. Include any info that is needed to search and locate the file and a short description.
To access 2K Share you will need to be connected to the internet through Xbox Live or the Playstation Network. A Gold Xbox Live account is not required as a Silver account can use the 2K Share features as well. In the menu go to "Features" and then "2K Share" and "Browse Shares".
---
Roster files (Courtesy of Operation Sports)
360: "OS Complete V1" hosted by DOAsaturn
360: "OS Complete V2C" hosted by warnerwlf98. Based off V1 but includes coaches names.
360: "Rerated OS V 2.5" is the latest. Based off V2 but with ratings and rotations adjustments
360: "OS Community Ver3 w/Courtedit" hosted by WallyWonka. Based off V2 but includes court fixes.
PS3: "Lan's Completed Rosters" hosted by Lanteri87
---
Sliders
360: ***Tomba321's College Hoops 2k8 Slider Set*** (Details on it found here at OS)
---