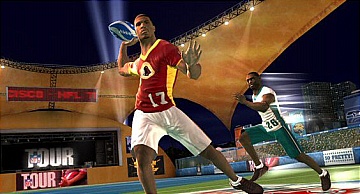 Here is the complete track listing from NFL Tour. You can now listen to a 30 second sample of each song on the game's official website.
I'm not familiar with most of these artists but with EA's track record in this area I'm sure the songs will fit the up-tempo style of the game.
Continue on to view the entire soundtrack.

Go Left: E Da Boss featuring Gift of Gab and Lateef the Truth Speaker
Blackjack: Airbourne
Saturday Superhouse: Biffy Clyro
Shout: Black Tide
Say This Sooner: The Almost
Paralyzed: Rooney
Shout it Down: MXPX
Superstar: Lupe Fiasco featuring Matthew Santos
Get it-main: Get-it main
Easy: Aceyalone featuring Chali 2Na and Bionik
So Wrong, It's Right: All Time Low
Radio: Flo Rida
Don't Lose Ya Head: Zion 1
Bodies and Words: Silverstein
Illuminate: Project 86
Stars: Madina Lake
Break it Down: LA Symphony