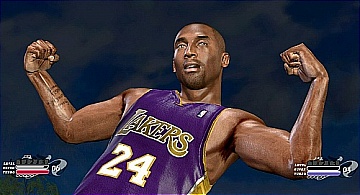 Midway today announced the return of the NBA Ballers franchise. "Chosen One" will be coming to the Xbox 360 and PS3 this coming spring.
It appears that along with its arcade style counterpart in NBA Street they will once again begin alternating years of release on the 360/PS3 as had previously been done on the PS2/Xbox.
I have added the four initial screenshots of the game to the gallery.
The fast-paced one-on-one and two-on-two action returns as players can select from more than 65 NBA superstars to be the next "Chosen One".

"NBA Ballers: Chosen One will allow players to live the life of an NBA superstar," said Steve Allison, chief marketing officer, Midway. "Featuring new competitive combo and super-move systems, the NBA Ballers Franchise returns with the amazing realistic graphics for which the franchise is known as players take part in the ultimate challenge to become the next 'Chosen One."