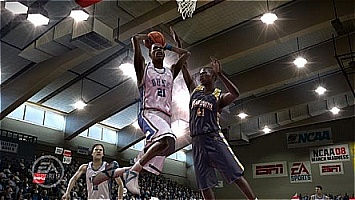 About a week back I looked for some input for a March Madness producer Q&A. Along with some of the suggestions that were given I formed others mostly based off the demo and the reaction to it.
What I really appreciated about this was that every question was responded to and in a straight forward manner. Hopefully these responses help clarify some topics that have been discussed throughout the community. Continue on to check out the full Q&A.
Are there any major differences between what people are playing with the demo and what will be seen with the final version of the game?
Overall gameplay and visual polish was added to the game post demo.
Some of the specifics improvements include the following –
· Game speed and game balance tuning. We increased the amount of fast breaks that occur. We slightly increased the game speed overall but focused specifically on increasing the speed at which players move in transition and when they had a open path to the basket.
· Interception tuning – we increased the amount of interceptions that occur when players are in the passing lane to reduce user "exploits" such as players making passes through defenders for easy baskets. We wanted the consumer to have to think a little bit more about the man they're passing to instead of just trying to make a pass when defenders are in the passing line. We made these changes to a certain extent regardless of skill level, but are definitely more noticeable when playing on the higher skill levels.
· Environment and character art/shader/lighting improvements.
· Many uniform updates and color tuning.
· Database/ratings adjustments.
The slowing down of the game speed has been emphasized in interviews and previews but was the biggest complaint with the demo. What was the thinking behind adjusting the speed so drastically? And with a very narrow window until release were you able to make any adjustments based on the feedback on the demo?
The game has been slowed down so that it isn't a track meet, up and down the floor, rebound, pass, pass, get to the rim. That's not how basketball is played. You still have transition opportunities that allow you to get to the rim or pull up for a 3, but the majority of the game requires you to be more thoughtful and more strategic in how you attempt to score the ball. Any decent coach will tell you that you should always attempt to attack with either penetration or with a post entry. See what the defense does, how they play you and play accordingly.
Also, slowing the game down really emphasized the need to play with Dynamic Post Control. I have to be honest with you, the lack of a low post game in basketball video games has been driving me crazy for some time now. It was the same thing as defense and why we introduced the lockdown stick in 06. I wanted to give consumers the ability to dictate style and tempo on defense and force the offensive player to react to what you're doing on defense instead of the opposite which has been the norm for years and still is in some cases.
It was a design challenge to properly implement the necessary controls and functionality so that the feature was deep and robust and just as importantly, balanced on offense as well as on defense. The ability to string moves together, the mocap data required to make this feature work and using the same defensive concepts as lockdown stick were key in making this feature the success that it is.
I think it is important to note that Dynamic Post Control in MM 08 is unlike anything that we've seen to date. Other basketball video games have claimed to have a cool low post game/experience, but I truly believe that nothing to date touches what we've done. You really need to spend some time with the feature to understand how it works and to have some success with it. Also, it completely changes how you play the game on the two highest skill levels.
The changes that we made to game speed and turbo (listed above) address the feedback that we received from the demo and the gameplay focus groups that we held throughout the year.
The passing seemed to be somewhat unresponsive, in some ways the controlling of the players seemed sluggish in the demo. However when shooting around on the practice court it seemed much more responsive there. Is there a reason for this?
I'm not sure what you're seeing, but I can say that we did spend a lot of time this year ensuring passing felt good and behaved properly – I.E. interceptions occurring when they should. Player movement is another area of gameplay that we spent a lot of time on as well. Offensive and defensive awareness for your teammates is a lot better this year as players are in positions to make plays.
The animation and input is the same in Campus Hoops as it is in the 5 on 5 game.
How does the fatigue system work? In the demo all of the players were nearly completely drained after only five minutes on the court.
Fatigue is defaulted to off for the final game. Our research indicates that the majority of our consumers play with it defaulted to off. If you play with fatigue on and auto substitutions set to on as well, players will fatigue during gameplay and will replenish if a time out is called, over half time or if the player is on the bench. Substitutions will occur if a player is tired or in foul trouble, frequency depending on the time/score of the game.
While the atmosphere in March Madness 07 was excellent the demo for 08 seemed a little off specifically with crowd reaction. Is that simply due to the specifics of the demo? What improvements have been made to how the crowd responds to the developments on the court?
The demo did ship with bugs where the crowd didn't react to all of the gameplay events. This has been addressed for the shipped product and the crowd is sweet. I'm really happy with the in game atmosphere in this year's game.
Did real team schedules make it in this year?
No. We're looking at doing this for 09.
Will you be able to play any game within Dynasty mode such as in NCAA Football 08?
No, not every game…you can only play games (as either team) that your dynasty team is in.
How updated are the jerseys? Are there any specific teams that had new jerseys this year that didn't make it in?
As far as we are aware, all jerseys have been updated. We worked very closely with adidas, NIKE and all of the schools to ensure that we were aware of all of the uniform changes for this year.
Will upgrades to the sidelines (such as coaches) be made in the future? Is this something that has been sacrificed to reach/maintain 60fps?
We definitely are planning to add more sideline elements to the game for the 09 product. And yes you are correct, getting to 60 FPS while still maintaining a high level of visual quality was a priority for us, but we did however have to make some sacrifices. That being said, I think our visuals and atmosphere is at an extremely high level of quality and arguably, the best amongst all of the basketball games.
Why is one button on offense (RB) used for two commands (alley-oop and icon passing)? This creates issues with accidentally throwing alley-oops when wanting to make a quick pass to a specific player.
We ran out of buttons! It's amazing considering how many buttons are on the controller, but we felt this was the best option (both passing commands) given the amount of controls that we offer the consumer.
Has the EA Locker changed any from last year? Do you still need to be on the person's friends list that has a file in their locker in order to retrieve it?
EA Locker still functions the in the same manner. You do need to be on someone's friends list to share files.
Has any more thought been given to making it possible to import rosters into NBA Live from March Madness?
This is something that we're working with the NBA team to make happen for 09. We think it is a cool feature and we are aware that it is something that the basketball community would like to see in our games.
How is the home court advantage represented in the game and is there more of an advantage for a team like Duke playing at home as opposed to a mid-level team?
Yes there is. A teams school pride will have an affect on players composure. So if you're playing against a school with a higher school pride – it will have a greater affect on individual events that occur. Let's say for example you're hit one or 2 shots as a duke player at Cameron indoor that will have a greater impact that players individual performance as well as boost the crowd level which can lead to negatively impacting the away teams performance if they have low composure coming into the game.
Recently we've seen significant improvement in modes and options as well as performance from NBA Live 08 and NHL 08. What additions/improvements have been made to online play for March Madness?
You will have the same online feature set within March Madness as seen in other 08 EA SPORTS titles. Online Team Play will be available in 09.