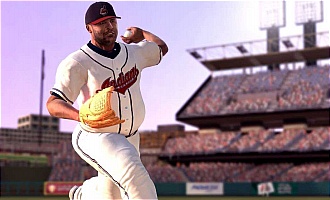 With the time for MLB 2K8 news approaching I thought it would be interesting to look back on MLB 2K7. Coming into the 2nd year of producer Ben Brinkman's "three year plan" what is the series working from after last year?
A patch was released for 2K7 that addressed some of the issues including adding an additional fielding camera. Did you play the game after the patch was released? If so feel free to leave your thoughts on how much it improved the game.
Initially I thought 2K7 was a lot of fun but over the weeks a few issues ate away at that. Despite the problems it was easy to see the potential in the game in the same way that you could with MVP 2003. That was first year of Brinkman's three year plan when he worked for EA on the MVP series.
So based on the default game this is how I laid out 2K7:
Positives

Overall huge improvement after 2K6.

The graphics still hold up as the best 2K has offered in any of its "simulation" games.

The presentation and commentary may be the best of any sports game to date.

Breakpoint pitching makes it more challenging and forces you to strategize.

Online play offered a smooth experience and lots of stats and tendencies are tracked.
Negatives

Framerate. The game really needs to move up to 60fps this year.

Although fielding had been improved it still needed work especially due to the single camera angle which made it very difficult at times.

Hit variety. This may have been my biggest issue. The majority of runs were scored off of home runs. Rarely would you see any hits get through the infield. It was near impossible to string together a series of hits and score runs, it all came down to hitting it out of the park.

Home runs were robbed seemingly several times a game.

Online leagues were broken.

I hate the swing stick. That is just personal preference though.
Following the release of 2K7 Brinkman talked with IGN to give his thoughts on it and the future. I found his honesty to be refreshing. He definitely has a grasp on what would need to be done to get the franchise to the level that gamers expect.
Year two for the MVP series brought about one of the worst glitches in the history of sports gaming. MVP 2004 had the "lefty glitch" where left-handed hitters had little to no power. I remember running leagues with that game and analyzing the stats. You had to go over 80 players deep to find the first left-handed batter on the home run leaders list. Right-handed pitchers were more likely to hit them than left-handed power hitters. It really ruined what otherwise was a very good game.
Now with the ability to patch games it isn't as big of a concern. No matter, as long as something like that can be avoided this time around MLB 2K8 is shaping up to be a very impressive offering.