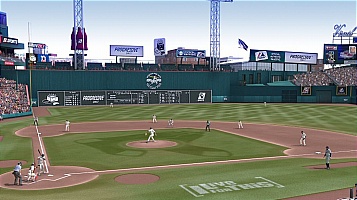 Derek Jeter signed a multi-year agreement to be the spokesman and cover athlete for the MLB 2K series beginning with 2K5. It was never stated how long the agreement ran for, so it is possible that he will continue on for a 4th straight year. Lets hope not though.
Here are some of the top candidates should a new cover athlete be selected. 2K tends to go with either the young star on the rise such as Chris Paul or the overly marketable superstar such as Derek Jeter or Shaq. If they move away from Jeter this year it would seem more likely they would go for the up-and-coming player.
(Soon after posting this 1Up put up their own analysis and stated they'll be announcing the cover athlete "very soon" which you can read here)
Who would you put on the cover? Continue on to see the players most likely to be selected.

Prince Fielder: If I had to take a guess Fielder would be it. He hit 50 home runs which is a flashy number. A young exciting player with a ton of potential that could've been argued was the NL MVP (he finished 3rd). He is primed for another big season. The downside is that he plays for Milwaukee, not exactly a team that the nation follows.
CC Sabathia: Last year 2K showed off Sabathia in several of their screenshots. Maybe it was just to display how much of a gut they had given him or maybe they have a relationship with him. Sabathia had a great year winning 19 games and the AL Cy Young award as the Indians made their way to the AL Championship.
Josh Beckett: It certainly wouldn't hurt to have Beckett on the cover, given how he has proven he is one of the best postseason pitchers of all-time. He was also the only pitcher to win 20 games last year and fell just short of being the Cy Young. It is always fashionable to have a player of the reigning champions.
Ryan Howard: Possibly more appealing than teammate Jimmy Rollins due to his power numbers and the NL MVP in 2006, Howard would seem to fit the 2K mold. He helped carry the team into the post season with a second half surge.
Matt Holliday: Even after the big season in which he was barely edged out for the MVP and helped the Rockies get to the World Series, Holliday may not have the recognizable name that 2K would be looking for.
Jimmy Rollins: Rollins may have won the MVP but he doesn't seem like he would be the ideal fit for the cover. He did have a surprising amount of power (30 home runs) but his strength was in generating runs. Would they follow up Jeter with another shortstop?
Jake Peavy: Should be on the list for for winning the NL Cy Young with a 2.54 era and 19 wins. The least likely of the pitchers on this list to get the cover.
Magglio Ordonez: Somewhat overshadowed by the year Alex Rodriguez had, Ordonez had an incredible all-around season. He probably wouldn't be a great fit if 2K is looking for the "spokesperson" like they did with Jeter.