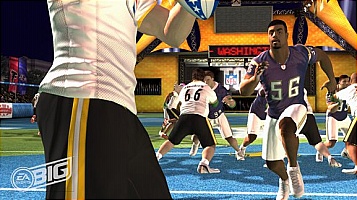 Gameinformer was able to play Shawne Merriman online in NFL Tour and they recorded the action. The videos are from near the end of the first half and then the entire second half as Merriman takes his Chargers up against the Packers. IGN also posted up videos of their time playing Merriman and they took the Jaguars up against him.
What I am a little confused by is the rosters which were announced yesterday. They aren't balanced in terms of number of players at each position. In the video they are running plays with 3 WRs. However there are teams that only have 2 WRs on the roster. I'm hoping to get some clarification on that soon. I'm also assuming there are no injuries of any sort as some positions only have one player.
The game looks to be really fun especially in head-to-head which isn't unexpected. It is a little disappointing that the online options are somewhat thin and there is no EA Sports World integration. However for a brand new title it is understandable that they want to get a good base and then grow the features from there.
From GI the gameplay is broken down into six videos which you can watch by going Gameinformer and then clicking the media tab. Continue on to view the IGN videos which include nine separate highlights.