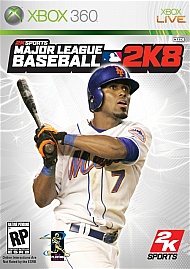 1Up has announced that Jose Reyes has been chosen by 2K Sports to be the cover athlete for MLB 2K8.
Statistically he stands out with his number of stolen bases and runs scored and he plays in the huge NY market. It is a curious choice however given how the Mets were a complete embarassment at the end of the season when they went through one of the biggest collapses in sports history.
This does thankfully break the streak of three straight years of Derek Jeter and five straight years of having a Yankee on the cover. However did they really have to stay in the same city? There were several choices that would've been better such as Prince Fielder, Matt Holliday, Ryan Howard, and CC Sabathia.