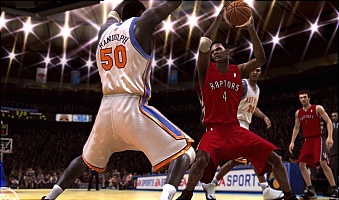 I have received the list of changes that have been made with the first NBA Live 08 roster update which was released today for the 360 and PS3. Only player movement was made in this update. No ratings were adjusted.
Unfortunately it looks like there will be no updates to the FIBA rosters despite earlier statements to the contrary. The next roster update will probably arrive sometime around All-Star Weekend.
Continue on to view the full list.

* Golden State re-signs Mickael Pietrus
* New Orleans signs Ryan Bowen
* New Orleans signs Julien Wright
* Wilson Chandler NYK
* Skinner to PHO
* Karolev off LAC
* Dickau to LAC
* Chandler to NYK
* DJ Mbenga to GS
* Antoine Walker to MIA
* Ricky Davis to MIA
* Doleac to MIN
* Buckner to MIN
* Juwan Howard to DAL
* NJ signs Eddie Gill
* Beno Udrih signed to SAC
* Mark Blount to MIA
* Turiaf to LAL
* Casey Jacobsen to MEM
* Tarence Kinsey to MEM
* Chris Quinn from FA to MIA
* Earl Barron from FA to MIA
* Roger Mason to WAS
* Jared Dudley to CHA
* Derek Anderson to CHA
* Jake Voskuhl to MIL
* Luke Jackson to FA
* Pavlovic to CLE
* Wayne Simien to FA
* Trenton Hassell to DAL
* Will Blalock to FA
* Brandon Bass to DAL
* Jackie Butler to FA
* Julius Hodge to FA
* Andre Owens to IND
* Travis Diener to IND