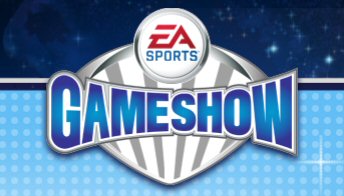 The EA GameShow December update was released yesterday. For full details of what is included in the 1.1 version of GameShow check out this posting.
The download is found on the GameShow website and only took about one minute on my connection. It then took a couple more for the install but overall it was faster than the original process which took about 10 minutes from start to finish. This download is significantly smaller coming in at 78.5 MB compared to the first one which was 161.5 MB.
Since I already had my account I didn't have to complete the initial sign-in. I'm not sure if they worked to make that easier since myself and several others had trouble with that despite already having EA accounts (eventually I ended up just re-registering the same name to get through that).
One of the biggest additions is the VoIP in the rooms which I didn't get the opportunity to experience in the limited time I played. I did get responses to some of the questions I had about it on the GameShow message boards though. A concern of mine was that it could lead to cheating and they're aware of that and will be monitoring things to see if that becomes an issue. Right now you can only mute individually and not the entire room which I hope they add in the future. The voice chat will overlap the hosts so I don't know how that is going to mesh until I hear it. On the plus side you'll only hear players in the room who are talking when using a USB headset so if you don't want to hear any of it just listen through the computer speakers.
Anyone who has previously played had their avatar items and power-ups removed and credited with the tokens for them. So you'll have to buy those up again.
There are a bunch of new avatar items so the variety is much better. Didn't get a whole lot of time to play around with them but I'm looking forward to doing so. The others I've seen have been pretty creative.
Power-ups have been adjusted, although I think the 6X Chicken will still be the PU of choice for those who want a chance to win a round. The token bonuses may be used by some but I think most would rather take a shot at winning a round by using the Chicken or even a 10X guess.
Answering with the keyboard seems more responsive now. Previously at times it was somewhat inconsistent.
I hope to try out the Xbox 360 controller sometime soon. I think that'll feel more natural and comfortable than using the keyboard however it may take some time to get used to answering 1-4 with buttons that aren't lined up in the same manner. In order to use the controller it has to be plugged in through the USB and this driver needs to be installed.
They have added an instructional video in the help section which I haven't watched yet but that should be really good for new users. It can be intimidating to jump right in against those who have been playing for a while and know the ins and outs of everything such as how and when to use power-ups.
I'm guessing this isn't by design, but the noises that you get when you answer correctly or incorrectly are heard for the other players in the room as well. So if you get an answer right you hear the sound for a correct answer, but if someone else in the room got it wrong you hear the sound for an incorrect answer at the same time.
A little thing that has bothered me since the beginning (not related to this update) is that yes or no questions have "no" as 1 and "yes" as 2. That just seems backwards to me and even now I pause when I see it.
I'd still like the ability to jump into different state rooms without having to change it in my favorites. Hopefully that is something they add in the near future.
I was amused that one of the commercials was just a picture of a can of spam for 15 seconds.
I like that sometimes they'll scroll the current leader on the bottom of the screen. Adds a little pressure to that person and gives you an idea if you're still in the running.
There was a glitch that had been resetting all of my options so I had to fix them every time I loaded up GameShow. It appears that has been fixed with this update.
Currently up for raffle are a bunch of EA's 360 games and an Ipod Nano (a full month to go before that drawing comes up).
Overall the presentation is sharper and they've added some graphical flashiness to it. Things such as fireworks or confetti behind the winners as they're displayed on the screen and tokens falling from the sky behind your avatar after a long streak of correct answers.
Once I get some more time in with the new version of GameShow I'll post up any other thoughts and suggestions I have. This was a pretty good update with a lot of additions and improvements so it'll be interesting to see where they go from here.