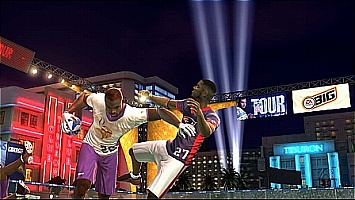 After having played with or against every team in NFL Tour (full impressions of the game can be found here) I came away with a general feeling on how good each of them are. I didn't take note of the actual offensive and defensive rankings they had but it was apparent when playing as you could tell the difference between them.
So based on my experience I've broken them down into four tiers. The first is the most dominant teams, generally well balanced ones that will present dynamic offenses along with defenses that would be more likely to make game winning plays. The second are teams that are dominant on one side but may be flawed on the other, however the strength of the one covers for the other. The third are teams that are relatively balanced but just don't match up against the better teams. The fourth are teams that would need to play a perfect game and catch a break or two in order to have any chance at beating the good teams.
When picking teams I suspect most people will look to the running back first. The next two most important areas are likely having at least one really tall/big receiver or really fast receiver as well as the overall defensive ranking. Finally the QB of course will be considered, although there isn't a huge difference between them in the game which is why I would have this considered behind the others.

Tier One
Patriots: No surprise here. The big names are obvious but Laurence Maroney is the key as you can't just concentrate on the pass when playing against them. He isn't going down on the first hit.
Chargers: LaDainian Tomlinson is one of the fastest players in the game making him one of the best. Add in guys like Antonio Gates along with him lining up at receiver and that is going to produce points. On the other side you've got the cover rep Shawne Merriman who is one of the most dominant defensive players in the game.
Giants: The Giants were the team I used when I really wanted a win. Brandon Jacobs may be the toughest back to tackle in the game. It usually took four to five hits before he would go down. Put him or Plaxico Burress as the returner and on many occasions that would result in a return TD.
Eagles: While Jacobs and Tomlinson are dominant, Brian Westbrook may just be the best player overall in NFL Tour. His quickness is insane and he'll break a good amount of tackles. Having Donovan McNabb is a bonus since he is fast enough to run the option or take off for big gains. Defensively guys like Brian Dawkins tend to come up with big plays.
Cowboys: They are pretty well balanced on both sides. T.O. is a dominant receiver but the key may be Marion Barber who is another back that is not going down easily.
Vikings: There are a few reasons why this team is one of the best. The first is Adrian Peterson who is fast and tough to tackle. The second is Tavaris Jackson who has quickness of his own. The third is the defensive lineman who were probably the only group of lineman that I saw really make a difference on their own.
Tier Two
Colts: I actually struggled with the Colts at times, maybe I expected Peyton Manning to make amazing throws that others couldn't. But they are still one of the better teams. Reggie Wayne and Marvin Harrison are great receivers but they aren't especially fast or strong. Bob Sanders and Dwight Freeney are playmakers on defense.
Browns: I found them to be the surprise team and one I went back to on several occasions. Jamal Lewis is amazing, oftentimes he seems impossible to take down. Add in Braylon Edwards and Kellen Winslow and those are great targets to throw to. The defense is the weakness but with that offensive crew it was usually just good enough to get by.
Ravens: This team is based off the defense which will have a good chance of making a big play along the way that ends up being the difference in the game. Willis McGahee is solid and breaks a decent amount of tackles but they are one of the weaker teams offensively overall. Despite that if the defense can step up and make that big play it's usually enough to compensate.
Steelers: The Steelers have a good mix of types of players. Hines Ward is the more possession type of receiver but then you have the great speed out of Santonio Holmes. Willie Parker is one of the quicker backs in the game. The defense has a few playmakers as well.
Jaguars: This team is stacked with big players and David Garrard is quick enough to run some option plays or just take off for big gains. Fred Taylor is good at busting through tackles and the receivers have height and strength.
Seahawks: Well balanced team with Shaun Alexander able to break tackles and Matt Hasselbeck one of the better QBs. On defense there are several players with the capability of making a big play. Downside is that there is no standout WR either in strength or speed. The return game suffers because of that.
Redskins: Clinton Portis is tough to take down and Antwan Randle El along with Santana Moss are quick and that is a huge benefit in the return game. Defensively they are more middle of the pack.
Buccaneers: This is good team to choose due to the speed of Jeff Garcia and especially Joey Galloway. Cadillac Williams is a good back but not on the same level as the great ones in the game. The defense is pretty solid also.
Bengals: This team will put up a lot of points, with Carson Palmer throwing it around to TJ Houshmandzadeh and Chad Johnson along with Rudi Johnson who is a strong back in the game. The defense would be the reason to avoid the Bengals.
Saints: Similar to the Bengals you can expect the Saints to score on most every drive. Reggie Bush is very fast and that is a big plus for both the running and return game. He didn't seem to be quite on the same level as Brian Westbrook though.
Rams: Another offense-centric team. Good receivers plus Stephen Jackson who is one of the toughest backs to get down in Tour.
Tier Three
Packers: I debated putting the Packers higher up but in the game they just seemed mediocre. There really weren't any standout players since the QBs aren't differentiated all that much.
Broncos: They aren't spectacular in any area which makes them feel somewhat flat. Other than Champ Bailey the team just doesn't have any real standouts when it comes to Tour. Travis Henry is decent but you wouldn't choose Denver based on him.
Texans: I actually liked playing with the Texans in mid-level type matchups. I see them as one of the better teams in this area because Ahman Green and Andre Johnson are standouts.
Raiders: The Raiders offered a little more than some of the teams in this tier but not enough to move up. Daunte Culpepper was more mobile than most QBs. Combined with Lamont Jordan and fast receivers its a solid offensive team. The defense also seems capable of making a big play.
Cardinals: Held together by the great receivers and Edgerrin James who is another back that will break a lot of tackles. This is one of the few teams that I saw negatively affected by QB play. Matt Leinart just seemed bad in comparison to the rest.
Lions: This seems like a team that would be suited well for Tour but they just didn't really produce. Not sure what the reason was. Maybe Jon Kitna wasn't great, or Kevin Jones is just okay, or the defense isn't very good.
Bills: Lee Evans has quickness and Marshawn Lynch some power. Outside of that the team isn't great.
Titans: Vince Young's speed is beneficial and Lendale White is a strong back. But there wasn't much else to the Titans.
Chiefs: Larry Johnson. That's about it.
Panthers: The speed of Steve Smith and a decent defense. Would be tough to beat the better teams with them.
Bears: I was tempted to put the Bears in the lowest tier because their offense is one of if not the worst in the game. The thing that keeps them out is their defense which is one of the better units. Problem is that if you turn the ball over on downs or throw one INT you've probably lost. In one game against Rex Grossman I picked him four times, which I was never able to get more than two against any other QB.
Tier Four
49ers, Jets, Dolphins, Falcons: You can win with these teams but you would need to play what amounts to a perfect game. Clock management is the most crucial aspect other than making no mistakes. Scoring last before the end of the half and making sure the opposing team doesn't have the ball with enough time left to win the game at the end. It can also be done by coming up big on conversion attempts.