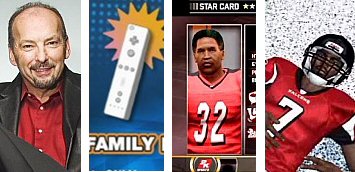 2007 brought a lot of developments to the world of sports gaming. From leadership changes to impactful features it certainly was never boring. Having gone back on the coverage over the last year I've brought together the stories that had the most impact on the community as well as others that were more controversial. They were what shaped 2007 and had an influence on the future.
Continue on to read the top 12 stories of the year.
12) EA places steroid users on covers: In a year where the use of steroids in sports has been such a huge topic, it was a surprise that EA ended up placing two previous users on covers of their games. Not only that, but the announcements came within a week of each other. Shawne Merriman was voted in for NFL Tour, which EA put him up as an option knowing those factors and knowing he would be the likely winner. Then fellow Charger Luis Castillo was named to the cover of Madden 08 En Espanol.
11) 2K Share: Taking the idea from the EA Locker to allow for sharing of roster files, it expanded on it making it easier to use and offering more options. Not only did it give the ability to easily download named rosters for College Hoops 2K8, but the same could be done with slider sets, chants, and legacy files. Instead of forcing someone to be on a friend's list in order to grab a file it made them public for anyone to reach.
10) Michael Vick: One of the biggest stories in sports also directly affected gaming in a couple ways. After years of reliance on the most over-powered player in Madden, Vick was removed from the game via roster update. Events such as the Madden Challenge felt the shakeup as Vick had become a staple of nearly every player there. There was also controversy when GameTrailers released a trailer for All-Pro Football 2K8 featuring a created Vick on a created team that resembled the Falcons. Not only was that tasteless but it also raised questions regarding possible lawsuits from EA/NFL and false advertising.
9) PS3 gets inferior versions: The advantage that the 360 had over the PS3 in sports gaming reached its heights when frames per second became a relevant topic of discussion. Titles on the 360 began coming in at 60fps while the PS3 was still getting 30fps leading to slower, less fluid, and less responsive gameplay. Games such as NCAA Football, Madden, All-Pro Football, and NHL had the disparity. It appears that this won't be as much of an issue anymore, however it is unlikely that the 360 will lose the perception that it is the dominant console for sports gaming this generation.
8 ) EA changes their pricing strategy: EA CEO John Riccitiello talked about the need to re-evaluate the pricing on their titles. The effects of that were seen almost immediately as the next three EA Sports titles set for release were NFL Tour which changed to $39.99 and both March Madness 08 and FIFA Street 3 which were moved to $49.99. It seems likely that secondary titles from EA will continue to have reduced price points. The question becomes whether flagship titles such as Madden and NCAA Football will remain at the standard $59.99 price.
7) Online Team Play: OTP mode allows for up to 10 different consoles to be involved in an online game. Each person can either lock into an individual player or switch around depending on how many are involved and any combination up to the 5 vs 5 is allowed. While OTP was released with 3 vs 3 for NHL 08, it was a surprising move that EA came out with a free download for the 5 vs 5 for FIFA 08 and NBA Live 08 post-release instead of holding back the feature for next year. The response to the mode has been overwhelmingly positive and it looks to be something that will revolutionize online sports gaming. It is a stepping stone to reaching the goal of having every individual player in an online game controlled by a user.
6) Casual gaming becomes a focus: With the rise of the Wii casual gaming has garnered a lot of attention and that has been noticed by companies. EA added Family Play to their Wii games to give ultra-simplified control schemes in the hope that their games would be less intimidating and attract a wider audience. Mini-games became an expectation for Wii titles. The BIGS found moderate success, one of the few that have on the Wii, and surprised many with its mix of arcade and strategy. EA has scrapped the NFL Street series in favor of NFL Tour, which has toned down the over-the-top elements but also simplified the game and controls. I would expect that even the traditionally "sim" games will see aspects of casual gaming added in for future releases to make them more approachable.
5) Online play ignored: This year it was EA Tiburon titles that failed with their online play offerings. NCAA Football 08 had huge issues with lag and button response. Madden 08 had overwhelming problems with disconnects. Both games had extremely limited options. It was also shown how media sites completely pass on reviewing the online play for titles. They simply regurgitate the supposed features and add in a generic comment such as "some lag" to make it seem like they spent some time on it. However later in the year the titles that came out of EA Canada such as NHL, FIFA, and NBA Live showed a remarkable improvement in both performance and options/modes.
4) Website mergers: Recently having touched upon this, the community as we know it has changed significantly this year. Gone are the days of the "fan sites" or the feel of a community around certain games and in are corporate owned media sites with completely different goals. No longer about extending the enjoyment of games, instead the sites have turned to the vanilla coverage and reviews and along with that the forum environments have lost a lot of what initially made them great.
3) OJ Simpson: In an apparent effort to attract attention to All-Pro Football, 2K Sports sought out OJ Simpson and paid him to be a part of their game. While the media eventually picked up on it, the negative coverage did nothing to improve interest in the game or the eventual lackluster sales. GameTrailers, which apparently was on a roll this year, produced a trailer for APF that made it seem as if he was set on a team named the "Assassins" which sport a knife on their helmet and an animatronic stabbing motion from the giant mascot after a score. GT even named the video "Slashing the Defense Gameplay" and the incident woke up a topic that had seemingly been put to rest. OJ later lost in court and was forced to hand over the money he made to the estate of Ronald Goldman.
2) EA Sports World: Making the list for for being on the end of both spectrum is EA Sports World. Essentially it is a social gaming community that ties in features of the games. Launching with the release of NCAA Football 08 it was an immediate success as fans of the game utilized the screenshot and video uploading features and it became one of the most positively responded to new additions to any sports game in recent memory. However it wasn't smooth sailing as the site experienced numerous technical issues. The most significant was the inability to use Photo Face, one of the most promoted features in Tiger Woods 08, for several weeks. Despite that the future for EASW is bright as it moves towards becoming a hub offering functionality for all EA Sports titles in the near future.
1) Peter Moore moves to EA Sports: Leaving his post at Microsoft, Moore took the head position at EA Sports. Immediately the atmosphere around the company shifted as his enthusiasm and focus on areas important to gamers was understood. Aspects such as online play become a focus heading forward along with placing an importance on the community. He also discussed a great deal about accessibility of their products, and that has already been seen with price decreases, consideration towards casual games and gamers, and initiatives such as EA GameShow.