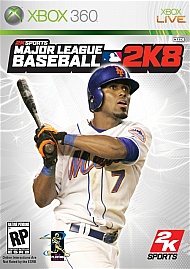 One topic being discussed right now has to do with the possibility of MLB 2K8 being shown at the Consumer Electronics Show which runs from January 7-10th in Las Vegas.
While MLB 2K7 was shown at CES last year, 2K is not on the list of exhibitors currently published on the official website. The important thing to remember is CES is primarily a hardware event. While it is possible some games will be displayed by various companies there are no guarantees as it isn't the purpose behind CES.
Following MLB 08: The Show's blowout of its features and releases of numerous screenshots fans have started to get antsy for the same from 2K8. Generally 2K doesn't begin a strong marketing push until about a month before release of a game, however that is usually due in part to promotion of a game being released ahead of the other.
Right now the schedule is clear for 2K and hopefully that means we'll be hearing news and seeing screenshots in the near future. Whether that will be coming out of CES or through another channel is still up in the air.