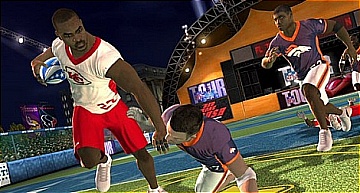 For those of you curious about anything related to NFL Tour feel free to leave your questions in the comments. Also when it comes to videos if there are certain teams, match-ups, or individual players you'd like to see featured feel free to mention that as well.
In response to the demo that is out for the PS3 I wanted to make comment on two factors that should be considered. The first thing is that the game is much more enjoyable head-to-head than it will be playing against the CPU. Hopefully the online play has good performance and it'll benefit from the games being only 10-15 minutes to play. The second thing is that it plays a more balanced game with the difficulty level bumped up one. On default the game is very easy for the offense. It is still going to be slanted towards the offense at higher levels but you'll see less broken tackles and the defensive line getting pressure quicker which forces the issue and increases the pace and decision making as just a couple examples. I just wanted to throw those things out to consider when you play the demo.
I wouldn't expect the 360 demo to be out until mid-week. It will likely come at the standard time that Microsoft releases demos, which is 2am PT/5am ET on Wednesday morning.
My copy of NFL Tour is set to arrive on Monday. 360 permitting (recent RROD problem) I'll be spending time posting up full game videos, individual player highlight videos, and trying to answer a few questions that haven't already been taken care of through the impressions I posted up from mid-December.