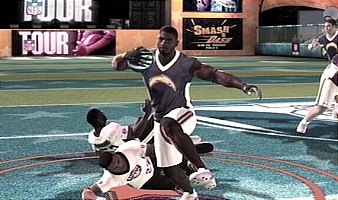 With NFL Tour in stores today I had the opportunity to get some time in playing online. After the poor performance from other Tiburon titles in the online arena this past year it was going to be interesting to see how well Tour turned out. EA specifically stated they were concentrating on the performance side for online play, which is why there aren't any modes other than the standard head-to-head. The most important thing going in was whether or not the game would be plagued by lag or disconnects something Madden, NCAA Football, and Nascar all had their problems with.
With (now) nine games complete I have yet to experience anything but a smooth and consistent experience. If you've been playing offline you'll notice a very slight delay that just takes a couple plays to get accustomed to. After that it really doesn't come into play at all. The overall performance of the game online seems to be excellent so far.
I detailed earlier some of the options that you can use to customize the game you'll be playing. Ranked games are two minute halves on veteran difficulty with the smash meter on. Unranked games can be either timed (1-7 minute halves) or play to a certain score (1-99). Difficulty can be set to any of the four levels, and the smash meter can be left on or turned off. You're also able to choose the jersey type that you want to use from the four options available. It does seem that both players must use the same passing type, either Tour or Classic. In one of my games it gave me Classic which I had never used before and I'm assuming this is due to the other player's settings. It also seems that you can't change rosters for any online games which is a frustrating omission.
In the My Tour section you can add your email address to receive stats after every game. Surprisingly, these emails contain more stats than many of the EA "sim" titles. I've copied one to post as an example below.
Here are the official results of your NFL Tour game on
2008.1.10-0:10:04.



Match Type: Ranked
Game Type: Timed


Half Length: 2 minutes


Difficulty: Veteran


Opponent: juiceyboi


Rank: 100



Score breakdown:



                    1    2   OT    F


pastapadre         20   14    0   33


juiceyboi          14   14    0   28



Statistics                  pastapadre        juiceyboi


Rushing yards for                    80              75


Passing yards for                   164             125


Rushing touchdowns for                1               1


Passing touchdowns for                3               3


Returns touchdowns for                0               0


Defensive touchdowns for              1               0


Turnovers for                         1               0


Interceptions for                     0               1


Sacks for                             1               2


Time of possession                 2:22            1:40


5 yard conversions tried              1               0


5 yard conversions succeeded          1               0


10 yard conversions tried             4               4


10 yard conversions succeeded         1               2


Fumbles Lost                          0               0
Stats wise the only way I've found to view your career is through the leaderboard. There you can look at your ranking points, level, record, streak, DNF %, and points for and against.
The pace of the games seems to be just as quick as you'll have offline as my opponents all chose their plays fast and kept the game moving. Being able to play online games in 10-15 minutes is a huge plus. It gives you the opportunity to keep playing, never getting stuck in blowouts for extended periods of time, or to just get a game in when your time is limited. That really isn't the case with something like Madden that takes up to an hour to play a single game.
It is a little disappointing to not have any extra depth within online play. Co-op (online team play) would've been great, EA Sports World integration through replays and screenshots could've added a lot of value, there are only minimal stats tracked for individual's profiles, and rosters can't be changed. However at the very least it seems the game represents itself well with minimal to no lag and disconnects.