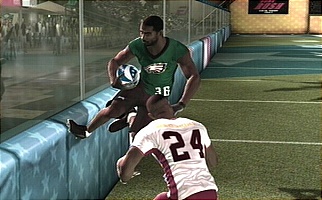 Here are the final details for the NFL Tour Online Tournament taking place this evening. Make sure to read through them and then check out the bracket at the end.
-Games are to be played on default settings (ranked games) and with Tour passing. If both players were to decide to use classic passing that is fine, otherwise Tour passing should be used.
-Meet in the lobby room I will have set up. Go to the lobbies and scroll down to user created. The name will be pastapadre and the password will be tour. The room will be up from 15 minutes before the tournament starts throughout the end. If it is not up feel free to open it up. If you advance to the next round head right back to the room to get set for your next game.
-A no-show will result in a forfeit advancing the team that was available to play at the scheduled time.
-Please go to the My Tour section in the online menu, my online info and enter your email address and change forward end of game stats to yes. Following your game please forward me that email. I would like to have the scores and stats to post in the tournament recap. This isn't required but would be nice to have.
-The winner of each game should send me a text message through Xbox Live or a message in the lobby room following the game just saying they have won so I can update the bracket as things progress.
Below is the full bracket with players (by gamertag), teams used, and schedule. Two players were randomly drawn to receive the byes in the first round. However if anyone else signs up for the tournament before the start I can add them in and remove the byes. (UPDATE: Only one bye remains.) The remaining seeds were determined via random draw as well setting up the matchups. Times listed are eastern.