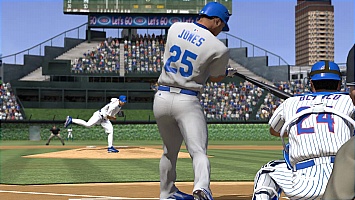 Jon Robinson at Gametap has posted up his list of "five things you need to know" about MLB 08: The Show. He goes into detail on umpire tendencies, Road to the Show 2.0, AI improvements, new animations and realistic touches, the replay vault and in-game saves. You can check out the full article here.
Continue on to read some excerpts and a few of my thoughts on each item.
(Umpire personalities) We want users to learn each umpire and pitch accordingly. There are blown calls in the game, and basically we want users to adjust to the umpires. We think it adds replay value to the game when you really don't know what you're going to get when you start up a game."
This is something I really like the idea of as long as it remains consistent throughout the course of each individual game and isn't just random. It sounds like that is what they have done since there is a focus on learning the strike zone of each umpire.
(Road to the Show 2.0) "In terms of in-game improvements, we're allowing users to move their players on defense pre-pitch. The manager will call for shifts, and you can move with the shift or just position your self accordingly. We don't allow you to move just anywhere, but you can move left, right, up, and back within reason.
That sense of freedom will be nice for those controlling position players. Road to the Show 2.0 is probably the thing I'm most anticipating. I've gotten hooked on the mode in 07. It feels to me as if playing as a pitcher seems to flow better than playing as a position player. Also the goal system seems iffy given that I received "failed" in some cases even when I made a good play just because it wasn't the exact way the goal asked for. Overall though it is really enjoyable and gives me something to play offline since I don't have the patience for franchise modes. It'll be interesting to see the improvements they've made throughout the mode since last year was a base to build off of.
The AI is constantly adapting and changing its strategy based on not only the pitcher who is throwing, but the batter as well. There is definitely a huge difference between a Jake Peavy and a number five starter somewhere else.
This topic is something that comes up in pretty much every sports game and it seems as though the developers are looking for different ways to make it happen. In Madden it was "weapons" and here we have adaptive AI that will be be dependent on how good a player is. As always it'll come down to balance but I like what they're working towards and definitely agree that especially the pitchers needed improvements in differentiation.
Like Pujols, he has this little bat toss that he does when he runs down the line. If your favorite player does something unique, most likely it's in our game."
Looking forward to seeing all the small but realistic touches as they really do add to the immersiveness of a sports game. The Show seems to really be on top of these things (see the screenshot of Shea Stadium with the new Citi Field being built in the background).
MLB 08 features a replay vault where you can go back and review any play throughout your game at any point. You can filter by player, by team, even by inning. And while you can only do this for the game you just played this year, by MLB 09, Sony is hoping that you'll be able to save your best replays to your hard drive.

But the biggest little feature to me? The in-game save. "We have it for PS3 and PSP where you can save your game at any point," says Cutliff.
I really hope they are able to offer a screenshot uploading feature in 09, it was a huge success for NCAA Football. The in-game saves will be great considering the time commitment that is required when playing a full nine inning game.