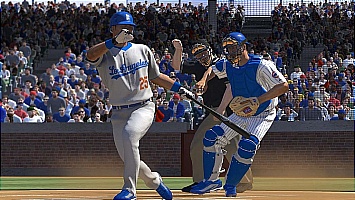 Each week leading up to release of MLB 08: The Show will bring a new edition in a series highlighting key features of the game on the official Sony blog. This week Chris Gill, the Senior Producer in charge of Gameplay and Animation, takes time out to go over the focus given to gameplay and situational awareness.
This year, we added over 500 more gameplay animations. That number doesn't even include the presentations, personal pitcher deliveries and batter stances (including their own personal walk up sequences). The pitcher batter duel is also an area where we put a lot of focus. Personalizing pitchers breaks, how they attack the batter/user and the adjustments that the pitchers make based on the users tendencies all were improved upon.
Click here to read the full blog posting and watch the brand new accompanying trailer.
Also I'm continually adding the "pic of the day" which you can find in the original posting or in the screenshot gallery.