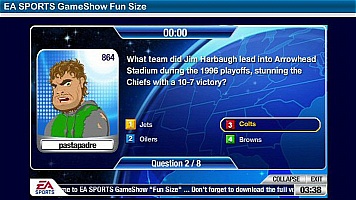 I have written a good deal about EA GameShow and how I got hooked on it immediately. You can check out all of the articles on its tag page. After trying out some of the new features of the December update I haven't been able to play all that much. When you sit down for Gameshow you want to set aside a good chunk of time and I just haven't had that or the energy lately to do so.
Interestingly enough comes along GameShow "Fun Size". This is a quick mini-version that is played on the web and is comprised of eight questions over five minutes. It is updated every day with a new topic category and questions along with daily leaderboards.
This is a good opportunity to try it out without downloading the program to get an idea of what to expect. It obviously doesn't reach the same level of interactivity or options that comes with the real game but it is nice to have as a supplemental aspect.
A new full GameShow update is also expected to arrive in the near future with even more upgrades and features. As soon as details on that are available I'll be posting them up along with my impressions.