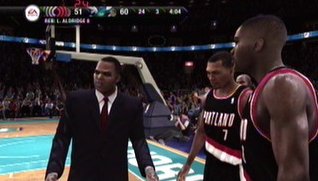 Both of the second night games were evenly matched and well played. I've definitely noticed improvement as everyone playing has gotten more comfortable with the mode, their assignments, and communication. One aspect I haven't really written much about is how great it is to have communication with only your teammates. Next year hopefully they'll have more ways to take advantage of that (setting picks, posting up, ect). Despite that it is tough getting back on defense to prevent easy hoops because there is really no way to judge where your player is at when off-screen so hopefully there is some solution to that as well.
Again both games were three on three with no lag. Thanks to njnetsfanforlif, moeandamigo, Im P Dub, hells hurrican3, elmira express, and tdoggy for joining in. Look for another OTP night next Friday or Saturday with details being posted the morning of. Continue on to read the recaps and check out videos of the full games. Thanks to Im P Dub recording and uploading them and you can check out his own game recaps over at NLSC.

Nuggets 120 @ Spurs 122
This was a tight game throughout. Much lower scoring and slightly slower paced than the first night games because of the teams. The score doesn't appear that way though because of the five minute OT. The Nuggets had a lead late but the Spurs charged back to send it into OT where they were able to hold them off. Allen Iverson fouling out in the 4th quarter was pretty big. Manu Ginobli and Carmelo Anthony were the stars of this game with everyone else contributing pretty evenly.
Nuggets
Marcus Camby (Im P Dub) 7 pts, 5 rbs, 1 ast, 2 stl, 1 blk, 3-6 fg
Kenyon Martin (Im P Dub) 20 pts, 14 rbs, 6 ast, 3 stl, 8-13 fg
Carmelo Anthony (Njnetsfanforlif) 53 pts, 11 rbs, 3 ast, 2 blk, 24-52 fg, 1-6 3pt
Allen Iverson (Moeandamigo) 15 pts, 3 rbs, 6 ast, 7-20 fg, 1-4 3pt
JR Smith (Im P Dub) 20 pts, 5 rbs, 5 ast, 8-11 fg, 1-2 3pt
Chucky Atkins (Im P Dub) 5 pts, 1 ast, 2-3 fg, 1-2 3pt
Spurs
Tim Duncan (Pastapadre) 27 pts, 11 rbs, 1 ast, 3 stl, 1 blk, 13-21 fg
Bruce Bowen 10 pts, 3 rbs, 7 ast, 4-6 fg, 2-3 3pt
Tony Parker (Elmira Express) 17 pts, 1 rb, 23 ast, 1 stl, 1 blk, 6-13 fg
Manu Ginobli (Hells Hurrican3) 58 pts, 9 rbs, 7 ast, 1 stl, 1 blk, 27-37 fg
Robert Horry (Pastapadre) 10 pts, 7 rbs, 7 ast, 4 stl, 1 blk, 2-4 fg
pastapadre.com_Night_2_Ga1.wmv
Blazers 97 @ Hornets 89
A big third quarter for Portland gave them the edge and they were able to hold off a late charge by New Orleans. The Blazers had great stat distribution as no one player was focused on whereas the Hornets had a huge game from Peja Stojakovic but the rest of the team struggled at times.
Blazers
Lamarcus Aldridge (Tdoggy) 22 pts, 14 rbs, 2 ast, 2 stl, 9-15 fg
Martell Webster (Im P Dub) 27 pts, 3 rbs, 2 stl, 10-24 fg, 3-8 3pt
Brandon Roy (Njnetsfanforlif) 22 pts, 2 rbs, 2 ast, 2 stl, 10-23 fg, 1-2 3pt
Channing Frye (Im P Dub) 8 pts, 11 rbs, 4 ast, 3-11 fg
Steve Blake (Im P Dub) 12 pts, 6 rbs, 2 ast, 2 stl, 5-12 fg, 2-5 3pt
James Jones (Im P Dub) 6 pts, 6 rbs, 1 ast, 2 stl, 1-3 fg
Hornets
Tyson Chandler 12 pts, 15 rbs, 1 ast, 6-8 fg
David West 4 pts, 7 rbs, 2-4 fg
Peja Stojakovic (Hells Hurrican3) 40 pts, 19 rbs, 4 ast, 2 stl, 15-26 fg, 1-2 3pt
Morris Peterson (Pastapadre) 2 pts, 1 ast, 1-5 fg, 0-2 3pt
Chris Paul (Elmira Express) 7 pts, 1 rb, 16 ast, 1-4 fg, 0-1 3pt
Bobby Jackson (Pastapadre) 24 pts, 1 rb, 1 ast, 1 stl, 10-21 fg, 3-9 3pt
pastapadre.com_Night_2_Ga2.wmv