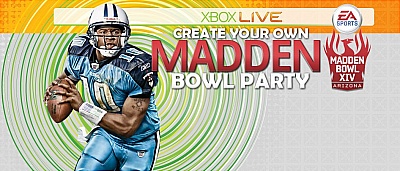 The Madden Bowl is taking place this weekend in Arizona and in conjunction with that Microsoft is sponsoring a series of online events. There are opportunities to play against Madden and NFL Tour developers as well as participate in tournaments which will result in being entered in a sweepstakes. There is even the chance to play Madden against Patrick Willis or Tour against Shawne Merriman.
All of these events are only taking place on the Xbox 360. Continue on to read up on all of the details.
All weekend long, you can score an entry into the Play & Win sweepstakes just by registering as a Tournament Commissioner and playing your tournament online. If you win the sweepstakes as a Tournament Commissioner, everyone in your tournament (up to 16 players) will win prizes!The Grand Prize is a trip to New York City to attend the EA SPORTS draft events. The Madden Bowl runs January 31 – February 3, 2008, and there are two ways to register for the sweepstakes:
Register as your Tournament's Commissioner online before the close of the Promotion Period on February 3, 2008, at 11:59 p.m. ET.
Download the exclusive Madden Bowl 2008 gamer picture from Xbox LIVE Marketplace to automatically register for the sweepstakes.
The chance to play the developers comes on Thursday Jan 31st (Madden) and Friday Feb 1st (NFL Tour) from 3-6 ET / 12-3 PT.
This is your opportunity to compete against the creators of Madden NFL 08 and the new arcade-style hit NFL Tour. Can you beat them at their own game? The devs will be taking on all challengers on Xbox LIVE leading up to Madden Bowl weekend.

Madden

The Madden devs will be online on Thursday, January 31 from 12:00 – 3:00 P.M. Pacific time (3:00 – 6:00 PM ET). Keep an eye out for these gamertags:

MaddenDevRyno
MaddenDevSean
MaddenDevCrank
MaddenDevScant
MaddenDevHart
MaddenDevOstres
MaddenDevLauren
MaddenDevLarry

NFL Tour

Jump into the fast-paced seven-on-seven action with the talented developers behind the game. Look for these gamertags on Friday, February 1 from 12:00 – 3:00 P.M. Pacific time (3:00 – 6:00 PM ET):
TourDevPhil
TourDevJasonB
TourDevMatt
TourDevJasonV
TourDevTavis
TourDevPeyton
TourDevRichard
TourDevJosh
TourDevJohn
And for the chance to game against Patrick Willis or Shawne Merriman…
Sign onto Xbox LIVE at 6:30 P.M. Mountain Time (8:30 P.M. ET, 5:30 P.M. PT) on Thursday, January 31, to score an opportunity to chat and play Madden NFL 08 against NFL star Patrick Willis of the San Francisco 49ers.

Sign onto Xbox LIVE that evening to chat and play NFL Tour with cover athlete and NFL star Shawne Merriman of the San Diego Chargers.

Interested in competing with Willis and Merriman? Send a friend request to the Xbox LIVE Gamertags WillisGwF and MerrimanGwF.