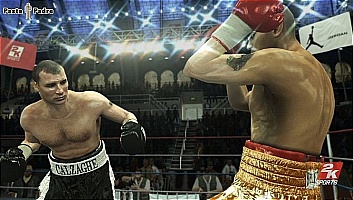 Gameplanet, a New Zealand website, has released some previously unknown specifics on 2K Sports' Don King Presents: Prizefighter. It looks as though they were able to obtain a partial fact sheet.
Live the Boxing Life – A full career mode offers players a comprehensive story line that follows them through real-life boxing situations such as injuries, facing stacked odds against a corrupt judge, and more. These dramatic moments are told in a sports documentary style using the voices and images of world famous boxers and celebrities from the boxing world.

Knock Out! – The developers at 2K sports weren't afraid to get their hands dirty when it came to fine-tuning the fight mechanics in Don King Presents: Prizefighter. Cumulative effect punching and surprise one-punch knockdowns and knockouts will keep gamers on the edge of their seats during every match. Height, weight, reach, and strength all play a part in how well a fighter stacks up against the enemy.
The documentary style career mode has already been discussed but the first sign of what to expect within is mentioned as situations dealing with corrupt judges and injuries will arise. The potential of one punch knockdowns/knockouts will be a welcome change to the "have to knock my opponent down four times before he's done" style of Fight Night. The remainder of the partial fact sheet was previously known as it details the number of boxers expected, commentary, and the online gym.