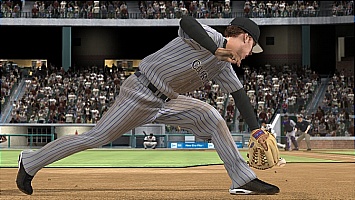 There have been a few hands-on previews of MLB 08: The Show posted recently. I've pulled a couple excerpts out below and click the links to read the full articles.
What's particularly cool about this is that these stats wind up feeding the secondary stat feature, which is the new Headlines feature. Based on how your team happens to be doing within a season or a franchise mode, the game will pull the stats and automatically generate a number of news stories for your squad similar to those found on sports pages. These aren't a simple title and teaser phrase either; these headlines are multiple paragraphs long and remark on how well a specific batter performed in a game, or how well the defense played.
All systems also enjoy a great new Rob Home Run Indicator. If a fly ball is hit deep and looks to be going yard, you can rob the hitter by tracking back with the ball and timing your jump. You'll know the line you're supposed to take and when to leap because of the indicator. The indicator will use a series of fading rings that represent the path that the ball is taking. When the last ring of the bull's-eye fades, jump and you'll rob the batter.
Manager mode might seem like the ultimate slacker's way of playing MLB 08, but if you're in the right frame of mind, it's a perfectly legitimate way to enjoy the game. As manager, you've got control over everything your players do in the game–just not direct control. Instead, in between each pitch, you're given the option to either let your players play or micromanage your little heart out. For a pitcher, you can tell him to throw aggressively, go high or low with the ball, or intentionally walk a batter. When at bat, you can instruct your hitter to take a pitch, go for a hit and run, or bunt for a hit, among other options. You'll also have full control over base-running decisions and substitutions. Don't forget to warm up those relief pitchers!