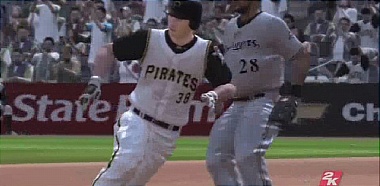 2K has released the first trailer for MLB 2K8. The general reaction thus far has been mixed. Not the usual level of excitement that is generally brought about by initial trailers.
One big area of contention is how the sound effects vary from what is found in the first gameplay videos. Either the videos are from an old build which didn't include the sound effect upgrades or the trailer has just those added in for dramatic effect. Regardless it's yet another area of confusion surrounding 2K8 and if it is the latter (which seems likely) that'll be disappointing.
Continue on to view the trailer.