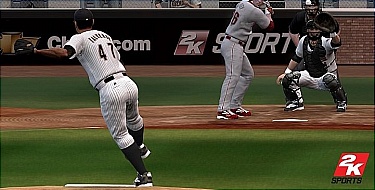 Gametap has revealed the top 20 players at each position with their overall rating as well as the list of teams ranked in order from MLB 2K8. Expect the Twins to fall and the Mets to rise significantly once the Johan Santana (one of two players to get 100) trade is completed via roster update as they were likely locked in prior to it being completed.
1. New York Yankees
2. Detroit Tigers
3. Boston Red Sox
4. Los Angeles Angels of Anaheim
5. New York Mets
6. Los Angeles Dodgers
7. Cleveland Indians
8. Minnesota Twins
9. Chicago Cubs
10. San Diego Padres
Click here to visit GameTap and view the remaining teams and all the player ratings.