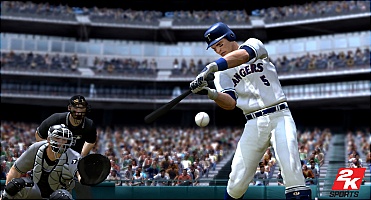 IGN has posted a piece detailing the new use of the right analog stick for pitching and throwing as a fielder. While the topic has been gone over in general through previews of the game here they are discussed a little more specifically. Included are some videos that demonstrate what it looks like when completed successfully vs unsuccessfully.
If they work as they're supposed to I think both of these changes will add to the enjoyment of the game. Where I lose interest with the right stick is when it comes to hitting as I've never liked playing with the swing stick. Last year I almost immediately switched to classic hitting and anticipate doing the same this year.
At least now the media is starting to flow for 2K8. It has been somewhat of a rollercoaster ride with highs (initial previews, trailer, latest screenshots) and lows (IGN videos and screenshots, full inning video, player/team ratings). These videos have some of the same issues that have caused worry previously with the framerate being a big one. Because of those things it is difficult to really know what to expect from the game. The demo continues to appear to be critical considering the new mechanics and the general level of skepticism in the community. Continue on to view the videos.

Good Throwing
Poor Throwing:
Good Pitching:
Poor Pitching: