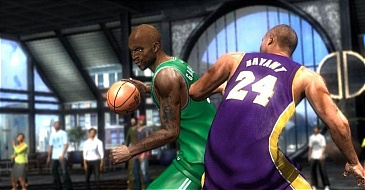 IGN has posted up a preview and four gameplay videos from NBA Ballers: Chosen One. The preview goes into detail on the topics below among others.
-Oddly enough Midway thinks of Ballers not so much as a sports game, but more like a sports game built around fighting game mechanics.

-Midway is also implementing a super move system that bestows ungodly abilities to both the 80+ NBA stars (including 15 legends) and your created baller.

-The story mode is centered on custom-made television episodes hosted by the one and only Chuck D. who also provides some awesome commentary — not to mention his tunes — during the on-court action.

-As you move through your life as a basketball prodigy you'll have the opportunity to make a personalized entrance complete with entourage members, a vehicle to ride in on, your music and your attitude towards your adoring fans.
I really like the direction they're taking it in terms of presentation, but after watching the videos the actual gameplay looks awkward (player movement, flight of the ball, reaction off the rim). It's difficult to judge fun factor in this manner though and ultimately that's what the game is going for. Continue on to view the videos.