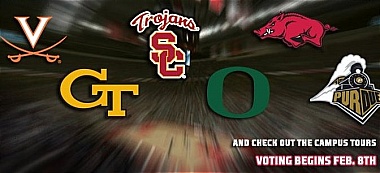 Votes are now being accepted for the arena that will be offered as free downloadable content for March Madness 08. Email in your choice of the six options to mstephenson@ea.com
The options are USC's Galen Center, Virginia's John Paul Jones Arena, Oregon's McArthur Court, Arkansas' Bud Walton Arena, Purdue's Mackey Arena, and Georgia Tech's Alexander Memorial Coliseum. The winner will have their authentic arena made available for free as downloadable content prior to the start of the March Madness tournament in March.
Profiles are currently available for Oregon and Arkansas with the other schools coming in the near future. Which arena are you hoping wins?