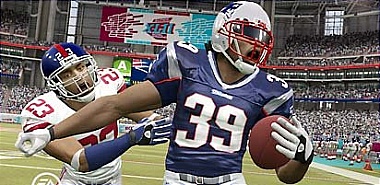 The Wall Street Journal has revealed that the NFL has extended the exclusive licensing agreement with EA Sports by three years. This means that NFL exclusivity belongs to EA through at least Madden 2013. The official announcement will be made later today.
At an EA briefing for analysts today, Mr. Moore plans announce the extension of a deal with the National Football League and the NFL Players Association through 2012 that will continue EA's position as the exclusive maker of NFL videogames, including Madden. EA's previous exclusive NFL deal was due to expire next year.
This doesn't come as a huge surprise however until now there was a sense of uncertainty regarding what could happen with the license such as potentially going through another bidding process. The news is just breaking on this so I'll have more as it becomes available. Be sure to check back frequently for the latest.

Update: Pastapadre.com had an exclusive interview with Peter Moore on the subject of the exclusivity extension. Click the following links for a quick preview and the recording of the call.