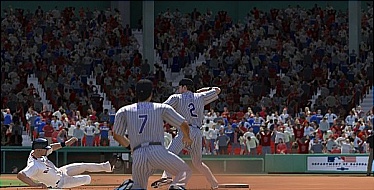 The demo for MLB 08: The Show was released for the PS3 earlier today. After having gotten to play through it a few times I'm already confident in saying that this has the potential to be the best baseball game to date. That comes from someone who still looks back at MVP 05 as still holding that title.
The demo features the Colorado Rockies @ Boston Red Sox with Jeff Francis and Josh Beckett on the mound. It loads into the start of the game bypassing the main menu. Go to the pause menu to change the team being controlled. By scrolling to the right in the pause menu it is possible to change all sorts of options including difficulty, pitching interface, indicators and displays, pitching/batting/fielding views, and gameplay sliders.
I've added some quick thoughts along with videos from a full play through broken down by inning. Check out the broken bat near the end of the 2nd and the double play turned just prior to that.
The graphics look great, an obvious improvement over 07 and given what had been shown from the game so far that doesn't come as a surprise.
The game just feels really good both in terms of pacing and flow with no framerate issues encountered.
Noticed the variable umps. You'll see in the videos how I wasn't getting the calls on the outside.
It seemed much tougher to pinpoint pitches which is a good thing.
Good amount and variety of foul balls.
Some great stat overlays. When Matt Holiday first came up it showed the top hitters by average in day games.
Had a couple mishandled grounders by fielders which keeps me on my toes.
The guess pitch now raises on the hitter's side of the screen and shows the pitches and corresponding buttons.
David Ortiz showed some emotion in the dugout after the game ended. Great touch.

MLB 08: The Show demo 1st inning from pastapadre on Vimeo.


MLB 08: The Show demo 2nd inning from pastapadre on Vimeo.