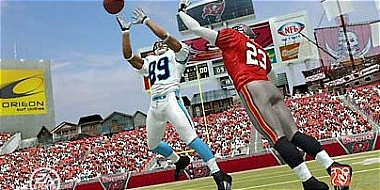 The last roster update for Madden 08 is set to release sometime early today for the 360 and PS3. This update removes all players from the IR and somewhat surprisingly does include transactions made plus ratings and weapons changes. The Super Bowl was obviously taken into account with the Giants receiving a bunch of significant upgrades.
In a year that EA has been highly criticized one area where they excelled was with the roster updates. Going into 08 the goal was to do them on a weekly or bi-weekly basis after having never had any real consistency in previous years. While it wasn't quite done at that pace (bad gap between November 12th and January 14th) it still represented a huge improvement. It was also nice to have all the changes communicated instead of just wondering or digging through players trying to figure out who had moved. Hopefully it gets even more frequent next year and other EA Sports games follow their lead in this area.
Update: The new rosters are now available.
Continue on to view the full list of changes in the final roster update for 08.
Injuries
• All players removed from Injured Reserve
Weapons
• CB Dre' Bly – Broncos – Loses Shutdown Corner
• DE Justin Tuck – Giants – Gains Power Move
• DE Osi Umenyiora – Giants – Gains Power Move
• DE Michael Strahan – Giants – Gains Finesse Move
• HB Justin Fargas – Raiders – Becomes Power Back
• HB Steven Jackson – Rams – Becomes Elusive Back
• DE Mario Williams – Texans – Gains Power Move
• HB LenDale White – Titans – Becomes Power Back
Ratings Up
• WR Brandon Marshall – Broncos – 88 to 89
• LB Karlos Dansby – Cardinals – 88 to 89
• QB Philip Rivers – Chargers – 86 to 87
• FS Clinton Hart – Chargers – 81 to 82
• DE Jared Allen – Chiefs – 95 to 96
• P Dustin Colquitt – Chiefs – 94 to 96
• LB Derrick Johnson – Chiefs – 91 to 92
• SS Bob Sanders – Colts – 98 to 99
• LB Gary Brackett – Colts – 87 to 88
• TE Jason Witten – Cowboys – 95 to 96
• LT Flozell Adams – Cowboys – 92 to 94
• C Andre Gurode – Cowboys – 91 to 93
• QB Tony Romo – Cowboys – 92 to 93
• RG Leonard Davis – Cowboys – 92 to 95
• RG Rex Hadnot – Dolphins – 84 to 85
• QB Shaun Hill – 49ers – 67 to 76
• QB Eli Manning – Giants – 87 to 92
• TE Kevin Boss – Giants – 77 to 79
• WR Amani Toomer – Giants – 83 to 85
• DE Osi Umenyiora – Giants – 94 to 97
• DE Michael Strahan – Giants – 95 to 96
• DE Justin Tuck – Giants – 88 to 90
• LB Kawika Mitchell – Giants – 84 to 86
• WR David Tyree – Giants – 68 to 74
• C Shaun O'Hara – Giants – 89 to 90
• RT Kareem McKenzie – Giants – 90 to 91
• SS James Butler – Giants – 79 to 82
• HB Ahmad Bradshaw – Giants – 79 to 80
• DT Jay Alford – Giants – 68 to 72
• DT Barry Cofield – Giants – 82 to 85
• DT Fred Robbins – Giants – 86 to 87
• CB Kevin Dockery – Giants – 79 to 82
• CB Aaron Ross – Giants – 81 to 84
• CB Sam Madison – Giants – 85 to 88
• CB Corey Webster – Giants – 79 to 81
• WR Steve Smith – Giants – 78 to 80
• C Brad Meester – Jaguars – 90 to 91
• LB Ernie Sims – Lions – 90 to 91
• LT Chad Clifton – Packers – 94 to 95
• TE Donald Lee – Packers 82 to 85
• RT Mark Tauscher – Packers – 93 to 94
• DT Corey Williams – Packers – 85 to 87
• WR Wes Welker – Patriots – 91 to 93
• LB Adalius Thomas – Patriots – 94 to 95
• RG Cooper Carlisle – Raiders – 84 to 85
• HB Justin Fargas – Raiders – 83 to 84 –
• LB London Fletcher-Baker – Redskins – 95 to 96
• FS Sean Taylor – Redskins – 93 to 96
• LB DeMeco Ryans – Texans – 92 to 93
• DT Pat Williams – Vikings – 97 to 98
Ratings Down
• DT Tommie Harris – Bears – 98 to 96
• RG Jake Scott – Colts – 91 to 90
• RG Mike Goff – Chargers – 91 to 90
• DT Jamal Williams – Chargers – 98 to 97
• CB Anthony Henry – Cowboys – 89 to 88
• QB Donovan McNabb – Eagles – 91 to 90 –
• LT William Thomas – Eagles – 94 to 92
• LB Keith Brooking – Falcons – 92 to 91
• RG Kynan Forney – Falcons – 88 to 86
• LG Larry Allen – 49ers – 95 to 93
• LB Jonathan Vilma – Jets – 95 to 93
• RG Brandon Moore – Jets – 88 to 87
• WR Donald Driver – Packers – 95 to 94
• LT Matt Light – Patriots – 97 to 96 –
• QB Marc Bulger – Rams – 92 to 91 –
• LT Jammal Brown – Saints – 95 to 93
• DE Will Smith – Saints – 92 to 90 –
• HB Deuce McAllister – Saints – 89 to 88
• QB Matt Hasselbeck – Seahawks – 93 to 92
Transactions
• DT Jimmy Kennedy – Released to Free Agents
• DT Babatunde Oshinowo – Released to Free Agents
• LT Mark LeVoir – Released to Free Agents
• DT Dusty Dvoracek – Added to Bears
• DT Antonio Garay – Added to Bears
• RT Mike Jones – Added to Bears
• HB DeDe Dorsey – Released to Free Agents
• LB Roy Manning – Released to Free Agents
• CB David Jones – Added to Bengals
• FS Ethan Kilmer – Added to Bengals
• DE Al Wallace – Added to Bills
• DE Tony Hargrove – Removed (Suspension)
• TE Derek Schouman – Added to Bills
• FS Bryan Scott – Released to Free Agents
• TE Stephen Alexander – Added to Broncos
• TE Chad Mustard – Released to Free Agents
• LB Keith Adams – Released to Free Agents
• LB Kris Griffin – Added to Browns
• DE Melila Purcell – Added to Free Agents
• CB Ricardo Colclough – Released to Free Agents
• C Marvin Philip – Added to Browns
• WR Paris Warren – Added to Free Agents
• LB Ryan Nece – Added to Bucs
• SS Kalvin Pearson – Released to Free Agents
• DE Charles Bennett – Added to Free Agents
• FB Mike Alstott – Removed (Injured/Retired)
• CB Torrie Cox – Added to Bucs
• SS Bhawoh Jue – Released to Free Agents
• CB Michael Adams – Added to Cardinals
• RG Brad Badger – Released to Free Agents
• LT Elliot Vallejo – Added to Cardinals
• LT Roman Oben – Released to Free Agents
• FB Andrew Pinnock – Released to Free Agents
• LB Jyles Tucker – Added to Chargers
• RG Erik Robertson – Added to Chargers
• HB Gilbert Harris – Released to Free Agents
• LB Johnny Baldwin – Added to Chiefs
• WR Bobby Sippio – Released to Free Agents
• QB Tyler Thigpen – Added to Chiefs
• CB Michael Coe – Released to Free Agents
• LB Ramon Guzman – Released to Free Agents
• LB Brandon Archer – Added to Free Agents
• WR Craphonso Thorpe – Released to Free Agents
• WR Roy Hall – Added to Colts
• FS Melvin Bullitt – Added to Colts
• LB Brandon Archer – Added to Colts
• LG Joe Toledo – Released to Free Agents
• FS Jereme Perry – Released to Free Agents
• SS Lance Schulters – Released to Free Agents
• HB Samkon Gado – Released to Free Agents
• RT Mike Rosenthal – Added to Dolphins
• WR Kerry Reed – Added to Dolphins
• LB Abraham Wright – Added to Dolphins
• DE Chase Page – Added to Dolphins
• SS Marcus Paschal – Released to Free Agents
• HB Ryan Moats – Released to Free Agents
• CB Nick Graham – Added to Eagles
• DT LaJuan Ramsey – Added to Eagles
• DE Atiyyah Ellison – Released to Free Agents
• LB Jay Moore – Added to 49ers
• RG Tutan Reyes – Released to Free Agents
• LG Stockar McDougle – Released to Free Agents
• RT Andrew Carnahan – Added to Jaguars
• TE Richard Angulo – Released to Free Agents
• TE Greg Estandia – Added to Jaguars
• LB Shantee Orr – Released to Free Agents
• LB Tony Gilbert – Added to Jaguars
• DE Brian Smith – Added to Jaguars
• FB Stacy Tutt – Added to Jets
• P Jeremy Kapinos – Added to Free Agents
• CB Ramzee Robinson – Released to Free Agents
• CB Dovonte Edwards – Added to Lions
• DT Daniel Muhr – Released to Free Agents
• DT Conrad Bolston – Released to Free Agents
• RG Chris Patrick – Released to Free Agents
• DT Colin Cole – Added to Packers
• TE Ryan Krause – Released to Free Agents
• LT Orrin Thompson – Added to Packers
• LB Spencer Havner – Added to Packers
• FB John Kuhn – Added to Packers
• FS Quinton Teal – Released to Free Agents
• CB Dante Wesley – Added to Panthers
• DT Rashad Moore – Released to Free Agents
• FB Kyle Eckel – Added to Patriots
• RT Rob Petitti – Released to Free Agents
• C Nick Leckey – Released to Free Agents
• FS Hanik Milligan – Released to Free Agents
• LB Raonall Smith – Added to Rams
• WR Dante Hall – Added to Rams
• FB Richard Owens – Added to Rams
• HB Cory Ross – Added to Ravens
• QB Tyler Palko – Added to Saints
• TE Ronnie Ghent – Released to Free Agents
• LB Lance Laury – Added to Seahawks
• LB Will Herring – Released to Free Agents
• RG Matt Lentz – Added to Steelers
• DT Scott Paxson – Added to Steelers
• DT Shaun Nua – Released to Free Agents
• CB Chidi Iwuoma – Released to Free Agents
• CB Eric King – Added to Titans
• DT Kevin Vickerson – Released to Free Agents
• DT Antonio Johnson – Added to Titans
• C Norm Katnik – Released to Free Agents
• DE Otis Grigsby – Released to Free Agents
• FS Eric Frampton – Added to Vikings
• C Dan Mozes – Added to Vikings
• LG Drew Hodgdon – Released to Free Agents
• SS Brandon Harrison – Released to Free Agents
• WR David Anderson – Added to Texans
• RG Mike Brisiel – Added to Texans
• QB Brock Berlin – Added to Free Agents
• WR Jordan Kent – Added to Free Agents
• WR Chandler Williams – Added to Free Agents
• WR Derek Stanley – Added to Free Agents
• HB Thomas Clayton – Added to Free Agents
• K Rhys Lloyd – Added to Free Agents
• SS Raymond Ventrone – Added to Free Agents
Contracts
• QB Shaun Hill – 49ers – 3 year extension
• DT Damione Lewis – 3 year extension