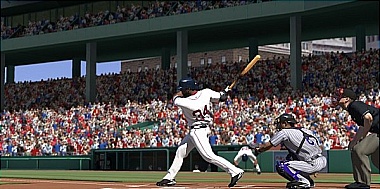 Here are two more full three inning games from the MLB 08: The Show demo. The pitching view has been switched in these with the the first being from "Outfield" and the second set as "Pitcher". If you missed my initial impressions and game video you can find that here.
So far the only disappointing things I have found from playing the demo is that players walk/run/slide right through each other (no collision detection) and that the HR camera tends to lose the ball. I also had an instance where I hit a homerun with David Ortiz, the outfielder jumped to try and catch it but it barely made it out. The game immediately cut to Manny Ramirez at the plate with just the passing mention that it was a homerun. I wouldn't concentrate on these type of things though since this build will have been at least a few weeks old. Where I get concerned with demos is when things that have been done intentionally are bothersome (for example the slow game speed in March Madness 08).
In the videos look for the battle between Jason Varitek and Jeff Francis in the 2nd inning of game one and the injury suffered by Marcus Giles near the end of game two.

MLB 08: The Show demo game two from pastapadre on Vimeo.