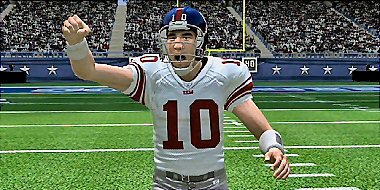 Following the Super Bowl I wrote an article about how Eli Manning had propelled himself into consideration for the cover of Madden 09. Being that it was just a couple hours after the game ended that was just pure speculation on my part. However now there is buzz going around that not only is he at the top of the list, but that he is actually in negotiation and appears to be EA's top choice for 09.
The problem with this is the basis of the rumor comes from a random forum post on an obscure Madden fan site. That was picked up on by Deadspin which wrote an article on the topic. Those two things were then cited along with my article in a Yahoo Sports blog. The blog posting has now reached the front page of Yahoo which is huge. Unfortunately it is probably without merit as it's simply speculative and has a reliance on a random forum poster who almost certainly made the story up. However the blog does a good job of representing how the mainstream views Manning completely differently now than just a two months ago.
It is something to follow regardless. Manning is now at the point where the thought of him being the cover athlete is accepted. To break through from "no chance" to "makes sense" in such a short period of time was definitely unexpected. It wouldn't be surprising to find out that EA had a few favorites in their sights but given the events Manning entered the picture and changed who their top target ultimately would be. Unless there is some sort of leak it's unlikely we'll find out who ends up on the cover until at least mid-April.