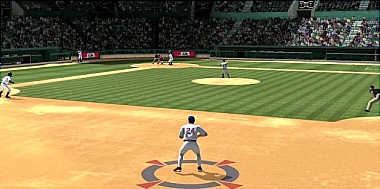 A while back SCEA released a trailer (in the mold of a tutorial) for the Road to the Show 2.0 mode in MLB 08. Now there is a new video available that shows off some other elements of the mode with more actual gameplay footage from the individual camera perspective.
There is no narration in this video as it breezes by aspects such as the CAP, advancement goals, base coach signs, and stats pages along with the gameplay.
This is the most anticipated aspect of the game for me. As I've mentioned before as soon as I have my copy I'll begin my RTTS career and I'll be posting developments and results along with video and screenshot updates on the site. If there is a certain position you'd most like Padre to play make sure to leave your thoughts in the comments and it'll be considered.
Continue on to view both the new video and the prior one in case anyone missed it earlier. Click the links below each video if you wish to watch in HD.

MLB 08: The Show RTTS 2 from pastapadre on Vimeo.


MLB 08: The Show RTTS from pastapadre on Vimeo.