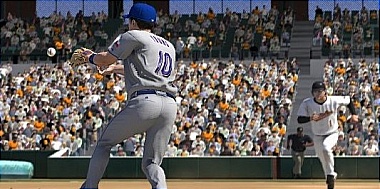 While no official word has been made a couple interesting developments suggest that MLB 08: The Show could be releasing next week.
A few weeks ago I wrote on how historically the baseball titles move up their release as the original date nears. The MLB does not require that all the games come out on the same day. So the companies have used this opportunity to get a jump on the competition in the past.
Amazon today changed the release date for The Show from 3/4 to 2/28. Gamefly has changed the date from 3/5 to 3/1. Gamefly's dates are listed a day after the official release date (thus the 3/5 that had been listed for The Show and is currently listed for 2K8). Gamestop/EB however currently still lists the release as 3/4. Also to consider is that the vast majority of games come out on Tuesdays and not Thursdays as this new date suggests.
Assuming the game has gone gold and has made its way to retailers there is really no reason to prevent it from going out early. The demo will have been out for nearly two weeks and the reaction has been overly positive. They would be able to get out in front of the 2K release, which has the 360 all by itself and because of that may not be as concerned with the PS3 competition.
So while this isn't yet a sure thing it's definitely interesting to see that some sites have adjusted the date. Generally that isn't done without reason especially since we have two here that have. So this is something to monitor over the next few days to see if others follow or if an announcement is made.