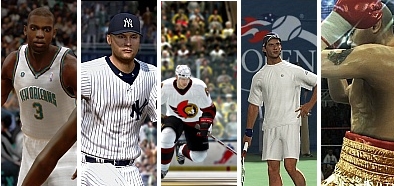 With the EA purchase of Take Two seeming likely, and sooner rather than later, that brings up the question of what will happen to that which is now known as 2K Sports. After TT decided to drop the College Hoops franchise I took a look at the outlook for the future of the rest of their titles. However given the circumstances this would present a totally different scenario. While we don't know some of the behind the scenes details of these games there is some reasonable expectations that could be made.
The potential acquisition of 2K Sports actually appears to be a secondary factor in the deal. Rockstar (which is also owned by TT) and their catalogue of big titles such as Grand Theft Auto is the main target as well as other studios such as 2K Boston with Bioshock. In actuality 2K Sports means more to EA (in removing competition) than it would mean to TT who has been looking for suitors to dump the unprofitable division off on.
EA's official FAQ on the potential deal included the following:
Would you kill 2K Sports?
Any integration starts with our respect for the teams and people that make great games. Beyond that, it's too early to discuss plans for managing Take-Two.
Continue on to read my analysis of the possible future of the 2K Sports franchises.

NBA 2K: The only one of 2K Sports main titles that is actually profitable. This is also the only game that really has earned itself name recognition that rivals EA Sports' NBA Live. Would EA put resources into two NBA titles that would compete directly against one another? That seems unlikely. However I wouldn't expect them to just scrap the 2K game entirely. They could add some of the talented developers to their Live team, or they could get creative and go a different direction such as releasing the 2K game at a different time of the year such as prior to the playoffs.
MLB 2K: The third-party exclusive license resides here (runs through 2012) and EA would be picking that up. That would potentially mean the return of the highly acclaimed MVP Baseball series. It would seem likely that would at first just be in name alone as it would be difficult to build a new engine up to their standards for the 360/PS3 in time for next year's release. Regardless the license requires a release every year so 360 owners wouldn't have to worry about having no baseball offering next year. But what may end up happening would be something similar to what MLB 2K9 would've been but with the MVP name.
The BIGS: While no announcement has been made as to a sequel it's safe to assume that there will be based on the critical success and relatively good sales the first attempt brought. Blue Castle, another developer owned by Take Two, would come along in the deal. Interestingly several of the important producers from the MVP series had shifted on to this game. The BIGS would fit into EA's plan of offering accessible titles to complement their sim offerings.
All-Pro Football 2K: Likely wouldn't not continue. There is still question as to whether a 2K9 is in the works. However it would probably not see the light of day if it is. 2K8 did not garner much interest from consumers and the costs of signing the legends to individual contracts proved difficult and expensive. It would not surprise me however to see EA borrow some ideas or aspects of the game such as the customization.
Don King Prizefighter: With EA already having Fight Night and now Facebreaker this game would appear to have the worst future prospects. My first thought was that it would just be immediately shut down and never see the light of day, however the money invested in the game and that it is later in the stages of development would probably save it. After all Take Two reportedly paid a whopping $1 plus million to Don King for his rights and it would be tough to swallow letting that completely go to waste.
NHL 2K: After college basketball it was hockey that seemed the least able to support two competing products. The 2K hockey franchise would not have much appeal for EA as their NHL game has surpassed it critically and holds the advantage in sales.
Top Spin 3: EA does not have a tennis game so this franchise seems probable to continue.
College Hoops 2K: This franchise was shut down voluntarily by TT last month. No change here as EA's March Madness will be the only NCAA basketball game.
Should the purchase go through it'll definitely be interesting to watch the developments that take place. There is really no certainty as to what will happen with the 2K Sports games or the talent that works on them. While I don't think it would be the slaughter that many people are suggesting, there certainly would be some significant changes to the landscape of sports gaming.