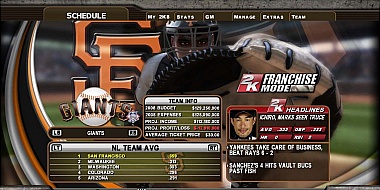 Jon Robinson has posted a look at MLB 2K8's franchise mode over at GameTap. It's written more in the style of a story rather than just going down and listing off features or upgrades. Probably because I like writing in that style myself with the Superstar/Campus Legend/Road to the Show type modes I think it makes for a more enjoyable read. I probably wouldn't have had much interest reading a piece on the game's franchise mode otherwise.
The writeup follows his San Francisco Giants from the offseason through the first couple regular season games. Along the way there are some notes of interest that pertain directly to the gameplay as well such as having to acclimate to having dives tied to the right trigger and not the right analog (because of the new pitching) and how the right stick hitting feels more natural and the ability to foul off balls has increased this year.
The full article can be found by clicking here.