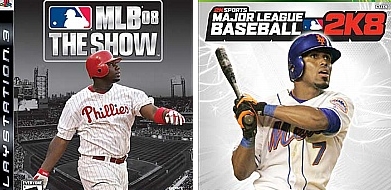 For the first time in at least five years it appears that no baseball title will have bumped up their release date as both MLB 2K8 and MLB 08: The Show should be officially in stores on Tuesday March 4th.
Yesterday 2K Sports put out a press release stating that 2K8 had "gone gold" which means it had been sent out to be mass produced. Demo wise next week seems likely and while 2K has pushed this one off on MS and Sony it's really their fault for passing the demo to them this late. There has always been about a 1-2 week certification process once they receive them before they go up.
After curous waffling from various retailers The Show looks to be back to the original 3/4 date. Amazon and Gamefly have both adjusted their dates to next week. Since the game has been shipped out to retailers it's possible some copies will make their way out before then but most will probably hold it until Tuesday.
I was informed that my copy of The Show could very well be arriving today. If/when it does I'll be posting that I have it in hand and begin taking some video, screenshot, and ratings requests. That will be followed by Padre's first Road To The Show update. Please hold off on making those requests until then.