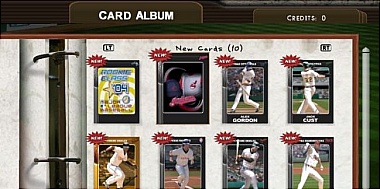 I've received some additional information on the trading card feature in MLB 2K8. Whether or not 2K will charge for the downloadable packs of cards isn't answered specifically however they do mention the possibility of them being sponsored (and in that case I'd assume they would be free). Also of note is a dedicated card space online where other users can view your collection, offer trades, and challenge you to games.
• In Game Challenges – Mundane (Hit 2 HR in a game with Ryan Howard) to the Insane (Steal 5 bases in a game with Juan Pierre without being thrown out)

• Completing Downloadable Post Ship Challenges – We will post a few Downloadable packages post ship with a new edition of the cards based upon events in the 2008 season. For example, Nick Swisher from the A's hits 4 HR in a game versus the Angels. The user will be challenges to repeat that accomplishment to win the card. These downloads can be sponsored by retail or other entity

• Wild Card Challenges – The user has odds to win these Wild Cards just by playing the game. Everything you accomplish in a game, be it a single, steal, or even drawing a walk has odds of winning a Wild Card. The odds increase as you go up in game play difficulty level.

• Multiple Editions – 1st Edition will ship with 2K8. The rest will be available in the aforementioned Downloadable Challenges. We hope to do 2-3 of these post ship corresponding with real-world events (All Star Game for example)

• Multiple Rarities – Like real-world trading cards we will have different rarities (Super Rare, Rare, Normal). There are odds the user will get a certain rarity through completing challenges.

• Buy at the "Card Shop" – User can sell unwanted or dupe cards at the card shop for credits he can turn around and use to purchase unopened packs. Each unopened back will contain at least 1 unlockable uniform and 1 legend player as well as 8 additional cards of different rarities

• Custom Card Teams – Earn cards and make your own teams (including uniforms, logos and names) featuring players on those cards. Each card as a "SALARY" on it. You need to stay under the Salary cap with your team – that's the challenge. You can also play in Custom Card Team lobbies online.

• Dedicated Card Space – Other users will be able to view your card collection, offer trades or challenge you to games.

• Trade Them – Users will be able to trade cards with other users to complete sets.