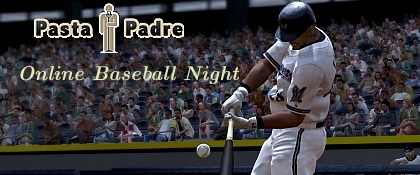 I wanted to organize an evening where members of the community could meet up and get some good enjoyable online games in for both MLB 2K8 (360) and MLB 08: The Show (PS3). This Thursday will be the first attempt at that.
On Thursday March 6th anyone can feel free to set up a pastapadre lobby room (if one isn't already created) and meet up in there. The time frame being concentrated on will be a four hour period that starts at 3pt/6et and runs until 7pt/10et. If you expect you'll be on you can also leave your XBL gamertag or PSN name in the comments and I'll add those to the further information that will be posted by Thursday morning.
The games should be assumed to be the standard ranked games. If both parties agree to change rules, settings, or game types that is okay but without any agreement to changes just go with a ranked game. These games are just for fun so please respect your opponents as you would hope to have the same done in return.
With MLB 2K8 future weeks will bring some card battle matchups which I'm excited about the possibilities of. I'm also looking to setup some sort of a 2K8 trading card expo in the near future. I'm open to having online baseball night on a different night but decided to just settle on Thursday for the first run.
The majority of my time will likely be spent on the 2K8 side after reading early reports on The Show's online play. I thought that some of EA's titles had the worst online performance until reading about and trying first hand The Show last year and it looks like those issues haven't been corrected. I'll be recording the games I play and posting the best ones up on the site along with short recaps. Should be a fun evening of baseball gaming!