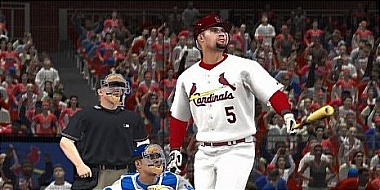 Given that much of today will be spent playing 2K8 I wanted to drop off my early impressions of MLB 08: The Show. Having played through a few standard games as well as some Road to the Show mode I've gotten a good feel for things. Overall, as most people have found through the demo, the true baseball experience is delivered. The gameplay is very good, commentary excellent, and graphics significantly upgraded. Granted there have been a handful of bugs pointed out (the walkoff scoring error being one witnessed in the video I posted) but all games are going to have some of those.
I like that the pitching seems tougher this year. 2K8 went and changed the mechanics in part to make it more difficult to locate pitches but I think The Show has accomplished that without having to make such a drastic change. It definitely adds to pressure situations and results in a more realistic pitch count. I'm still getting the hang of hitting but I love that you can protect the plate and all the foul balls as well as the good hit variety. Fielding wise I haven't fully gotten comfortable with the controls or timing of yet (such as diving). Trying to get throws off sometimes seems to take too long.
Just as a side story I played a buddy of mine and on the first pitch he through I crushed a HR with Ichiro. I guessed the pitch and location and was all over it. It was amusing that I went deep on his first pitch with 08 (plus it being done by Ichiro) so I'll always have that on him. It was an unexpected and exciting moment as the camera immediately focused on Ichiro rather than the ball.
While I've still got a long way to go with it I'm already hooked on the Road to the Show mode. They've expanded on what you can do as well as worked on fixing up the goals and advancement logic. To this point though it doesn't seem all that different from last year outside of the more reasonable goals. I still wish there was an on-screen display of the situation. It bothers me that I'll get a hit and then have no recollection of how many outs there are. But I love this type of mode, and since you can get through each game in about 5-8 minutes it breezes along giving you the chance to actually progress through your player's career.
Having weekly roster updates again is something to look forward to. It even sounds like they'll be making more ratings adjustments for each update than ever before. It'll be a nice change of pace to have that consistency and ratings that are reflective of the current real life player performances.
The Replay Vault is a nice addition but not much more than that. After the game ends you can view replays broken down by inning, player, or team. However since you can't do anything with the replays (such as save or upload them) I doubt many people will find value in this.
That brings me to the online play which is absolutely horrid. After last year's problems there was hope that it would be fixed up this time around but that is definitely not the case. The lag is crippling to the point where you either quit the game or it turns into swing and pray. This isn't so much a PS3 issue as it has proven to be game specific. They have some nice online features which unfortunately end up being essentially useless if you can't play the games. It's possible it will improve but given their track record in this area I wouldn't count on much. This is really disappointing and is going to push me towards playing 2K8 more with the exception of when I want to play RTTS mode. I may give it a shot on Thursday for the Online Baseball Night but expect to spend the majority of the time with 2K8 given the current situation. Quite simply if you own a PS3 and online play is important to you it now has to be considered (if choosing between the two games) that 2K8 may be the way to go.
Of course, as I've documented before several times, reviewers don't bother with online play. Check out this inexcusable excerpt from the IGN review:
Online play, which was pretty good last year, is definitely stronger thanks to SportsConnect, which has received some new features….With updated scoring and leaderboards, as well as weekly roster updates, online matches are definitely improved events, and they run without any hitches.
The overriding feeling for me is that The Show presents a genuine baseball experience. That is something that SCEA should be commended for. Hardcore baseball fans will find the gameplay to be realistic and enjoyable and RTTS mode is a lot of fun. However the terrible online experience drags the game down. I'll have more thoughts on the game later this week.