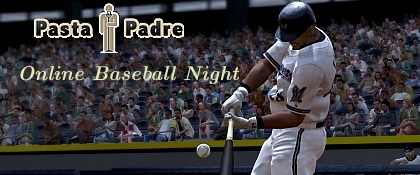 The first Online Baseball Night will take place tomorrow (Thursday) with the concentrated upon time being 3pt/6et through 7pt/10et. This is a time for the community to gather and get in some good games against quality opponents for the 360 MLB 2K8 or the PS3 MLB 08: The Show. You can read up more on what the night will entail here.
After trying out The Show online tonight I've found there to have been significant improvements made and I've been seeing reports of that from others as well. The games I've played since the maintenance have been relatively smooth and consistent. The main issue I've had has been the bat not swinging in tandem with the button press, which makes it real hard to make adjustments because you can't judge what you're doing wrong. That happened in two out of the three games (the third game felt really good and didn't have that problem). So there is definitely a sense of relief that at least it is running better and hopefully it continues improve even more. I haven't gotten a chance to try out 2K8 again so I don't know if the performance has gotten better online for that.
I wanted to mention that if you play The Show online and signed up to SportsConnect you can log in at the website and view your profile, stats, game history (including partial box scores of each game), search other users for the same info, the leagues are hosted on there, and there is more I just haven't even gone through everything there yet. Definitely worth checking out. Click here to go to the SportsConnect site. This could be pretty cool to drop links to from the games that are completed tomorrow. Here is an example of the game I just completed which was ended early due to time constraints.
I'll probably try to get 2 games in on each side although I may want to just go up against fellow west coasters in hope of avoiding the more severe lag issues. Continue on for a list of PSN and Xbox Live gamertags that were previously left in the comments. If you'd like me to add you to the list just go ahead and drop them in the comments here. We'll also try to gather in a lobby room for easier challenging (I'll update here with the room names tomorrow) so it isn't required that you leave your gamertag to participate. Check back here for any updates prior to the start tomorrow.

360
pastapadre
Da Yankees Win
Reeso2991
artycone
Zelltre v3
CHAD334
phillylakers
stuntman87
prettiboi09
Jock01
cmcbeth23
Daboss1026
demoben10
DoubleOT
nmigliore
iMi Darkblak7
da birthday boy
Skihawks
zeroway21
PS3
pastapadre
yagoogalizer
doubleagent 47
TruZoe
EB25
kubano24
len1978
dillfav
wastedpenguins
Boski02