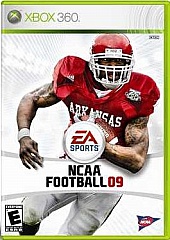 As speculated upon after the news that Darren McFadden would be the Xbox 360 cover athlete for NCAA Football 09 broke, EA has made it official that there will be four platform specific cover athletes this year that will come from different regions of the country. If you count the mascot on the cover of the Wii version that means all five will have their own exclusive covers. The PS3 version will be announced on April 24th with the PS2 and PSP covers being announced in early May.
"These four athletes represent the best and brightest of college football, but our selections aren't just about Heisman candidates and All Americans," says Sr. director of marketing Tom Goedde. "They represent the spirit and passion of the sport in the same way EA SPORTS video games do."
Thinking in regional terms (assuming McFadden is repping the south) I would look at players like Matt Ryan or Chris Long from the east, Mike Hart or Rashard Mendenhall from the north, and Dennis Dixon or DeSean Jackson coming out of the west as good possibilities. Who do you think will make the final three covers?
Also the first mention of what will be focused on in the actual game this year was made and I like the sound of opening up the gameplay in general. Over the past few years that has been something I've wanted more of from the football games.
NCAA Football 09 will unveil the all-new Break Away Animation Engine which allows gamers to break in and out of moves giving the user more direct control as well as instant influence and responsiveness on the field. At its core, NCAA Football 09 will focus on wide-open collegiate style gameplay featuring unique animations that you will only find on college football Saturdays. This style of gameplay will allow agile backs like McFadden to show off their break out speed and maneuverability in-game.