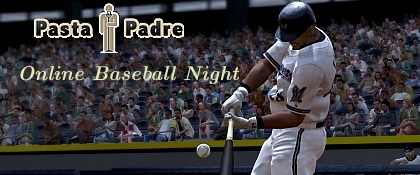 Just wanted to drop a few thoughts on the handful of games I got played this evening. Thanks to everyone who participated and hopefully we'll be able to organize the nights on a weekly basis like has been done with the Online Team Play for NBA Live 08. Anyone who sent me an invite that I wasn't able to get to I look forward to playing in the near future. Below are details on how two of the games I played turned out.
The night started off with a game of MLB 2K8 against Reeso2991. It was played on default settings although unranked (since the only way you can play ranked seems to be through quick match which is lame). A combined 16 homeruns (12 from me, 4 from him) and 15 doubles to 14 singles were recorded. I came out on top 26-9 and that was with me trying to avoid hitting HRs in the final four innings but it didn't work. Everything gets hit up into the air in this game.
Pitching wise I had things under control but the swing stick and hitting system is flawed, overly simple, and any lag just compounds on that. It becomes a guessing game where you swing and hope that the opposing pitcher threw a meatball or were off by just enough. The difference is a home run or smashed double vs a pop-out. And you pretty much have to swing as soon as the pitcher releases since it is practically impossible to read a pitch and react accordingly with the lag and how early you have to commit with the stick anyway.
Upping the difficulty I'm sure would bring the scores down but ranked games are unfortunately locked into the defaults. It still wouldn't change how much the swing stick over-simplifies hitting all the while creating a frustrating experience due to the disconnect that comes with the lack of control over the end result.
Switching over to The Show I had a fantastic game against MarinerFan. He went with the Mariners while I countered with the Royals. Click here for the SportsConnect box score. It was a pitching battle throughout but he held a 2-0 lead off a 2 run HR from Richie Sexson. Erik Bedard was dealing all game and had 14 strikeouts but he was replaced for a pinch hitter in the 8th inning. In came closer JJ Putz to close out the game which at that point had me feeling not too optimistic about the chances of a comeback.
However I led off the inning with 2 straight base hits and that brought up Alex Gordon. At this point I was ready to sacrifice the two runners over however I guessed a fastball up. As soon as I saw I had guessed correctly on both counts I crushed it, a no-doubter. That got me out of my seat I was so pumped up after that. Putz seemed to lose confidence as he had trouble throwing strikes after that. Another base hit set up a steal later in the inning and an insurance run crossed the plate off an RBI single. So it went into the bottom of the 9th with a 4-2 Royals lead. Closer Joakim Soria came in and shut the door with a 1-2-3 inning. That was a fantastic game and I had a lot of fun with it.
Check back tomorrow (Friday) morning for a full online play report covering both MLB 2K8 and MLB 08: The Show.