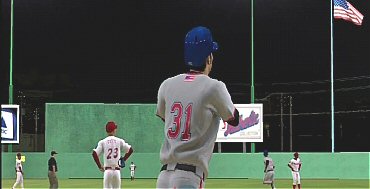 So after having attention diverted towards playing The Show online and playing the rival baseball title, Padre was able to get back into his Road to the Show.
Going through the rest of Spring Training there was some improvement made at the plate. He finished ST having batted .255 with 9 RBI and 4 steals. Not exactly impressive numbers but at least they had come up from the sub .200 he was sitting at earlier in ST.
According to the scouting this was pretty much what the organization had expected him to do. So when it came time for a contract offer Padre was presented with a one year deal for $32,000. His agent countered and asked for $37,500 but that was rejected. They came back with an offer of 2 years for $64,000 that included a player option for that second year. Padre decided to go ahead and accept it. He was then sent to the AA Harrisburg Senators to begin his career as a bench player.
Despite the early designation as bench Padre found his way to a lot of playing time, splitting between his natural position of SS and his secondary position of 2B. In fact only two games in he got his first start and went 2-4 with a steal. After a handful of games he had already become the usual starter at SS and occasionally at 2B.
This led to Padre's first home run which was a no-doubter that he pulled to left field. He was excited for that one and it made some all of the frustration prior to that worth it. A second home run would be hit a few games later in a pinch hitting role. Thanks to the training he seems to be gaining in the power category although he has also put attention towards contact and speed.
Currently the Senators are tied for 1st place with a 7-5 record. Padre is hitting .310 with 2 HR, 5 RBI, 4 R, and 4 SB.
Notes: The minor league stadiums are quite fun to play in. Definitely finding it easier to make good contact and guess type or location off of these less talented pitchers. I still get picked off way too often since I lose concentration waiting. I really wish the SportsConnect website had uploading of videos and screenshots.